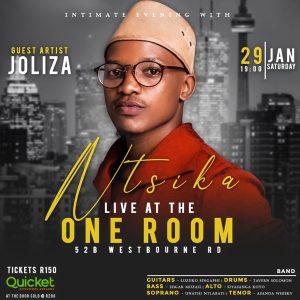 South Africa's renowned Afro-soul singer Ntsika Ngxanga tells us how his solo music career has been thus far, his plans this year and his upcoming intimate live session in Gqeberha
How has your journey been as a solo artist, what have been some of your challenges and highlights?
The journey has been incredible. It's more than just a solo career, it's a blessing to me because it exposed this undying need to focus more on the business side of things and my attention to composing more. While I'm on the road, I don't just compose for myself or The Soil anymore but for other musicians, especially the up-and-coming artists. The journey has also exposed me as a brand that is willing to mingle with anyone who resonates with my spirit. It has given me a road map of which places need healing because my debut album, I Write What I Dream, is melodic medicine.
How was your album I Write What I Dream received and what message did you want fans to get from it?
The album was received warmly by my fans when I released it in March 2019, which was rewarding. A few days after releasing the album, I received a call from Billy Domingo to invite me to the Cape Town International Jazz Festival. From there, it was a ripple effect of amazing things that were happening back to back. I also scored nominations at the South African Music Awards, including Best African Adult Contemporary Album. Fans said that the music was a great companion, which woke them up spiritually during the lockdowns. Such feedback warms my soul and makes me appreciate that the plans of God and my ancestors for me are continually falling into place.
You have also mentioned in our previous chat that The Soil is not going anywhere, are you currently working on any new music and when will we see you on stage again?
The Soil is definitely not going anywhere and we are back in the studio. We are two songs away from wrapping up our album, which will be released this year. I cannot wait for people to hear the music, which has grown and matured and mirrors where we are individually. I feel The Soil is responsible for being bold in commentating about all the social ills this country faces, as well as the beautiful dynamics of love, which we experience in our relationships, families and even in the group and the people we encounter.
READ MORE: My Journey To Success with: The Soil
You also wrote for Zama, the winner of Idols SA season 16, for her new album In The Beginning, how has the experience been working with her?
Zama is such a star. When I got to the studio and found a young, enthusiastic person who could control her voice, as she can, it made the process an amazing and easy experience. She was fully committed and took charge of the songs she sang, which was beautiful to watch. I wrote Malaika, Wena Wedwa and Ingilosi, which I jumped on it because it's such a conversational song that I wish people will listen to, especially as we are approaching the month of love. I believe it will help strengthen and revive their love for each other. It was an honour working with such a great person.
How has Covid-19 impacted your career in music and how have you managed to survive throughout the pandemic and lockdowns?
The pandemic did not impact me as much because I am a homebody anyway. I love being at home with my wife and children and spending time with them. Apart from the obvious economic impact as Covid-19 took away a lot of jobs, it also gave us alternative ways of making money within the music industry. I explored producing, writing and music directing for theatre plays, as well as focused on my Nomadic Tribe Entertainment company, which is a publishing and record label. So, Covid-19 pushed me into exploring other avenues apart from making an income from being on stage, which I would otherwise procrastinate. And now that I have done all these things, I am juggling them as the country is slowly opening up. The more options we have as artists, the better.
Last year, you, Oskido and Thandiswa Mazwai released a hit single Ayazizela how did the song come about?
What an honour to be part of that project, which happened organically. Oskido and I officially met through a common friend through whom he heard a song produced by my other friend and music partner Avi Smith. Oskido invited me to his house to record a song for his album and I ended up recording four more songs for him. After that, he told me he was working on a song with Thandiswa Mazwai with whom he had never collaborated before. So, when I heard the chorus, I jumped at the opportunity he afforded me to do a verse on, which I wrote within five minutes of being in an Uber on my way back home. At first, since the chorus says men just come and the lady doesn't approach them, my angle for the verse was that I was in a relationship with the woman and we can break up because the same applies to me when it comes to women. I pitched the verse the following day and Thandiswa suggested I should be one of the guys who approach her and courts her. It was a great experience working with two South African music legends.
READ MORE: My Journey To Success with Ntsika Ngxanga
Tell us about your upcoming live performance at the One Room in Gqeberha this Saturday, what can fans expect?
A company in PE called Ziyawa More hosted a workshop for young creatives and I was invited to be their keynote speaker. It was during that time that I suggested to my band in Gqeberha that I stage a show and the One Room was on board. Joliza is an up-and-coming artist who will be my guest artist. People can expect an intimate and magical show because when I am on stage, I aim to heal. I will be breaking down how my songs in the album came about and immerse guests in the spirit of the songs. It will be worth it for people to come to the show on Saturday.
Will this be the only tour or will there be more, especially in Gauteng?
This is definitely a tour. I have already secured two more venues in Pretoria and Braamfontein, in Johannesburg, and will announce the dates very soon. I am in talks with Cape Town and Mpumalanga to see when we can be there. I hope to announce international dates too as people in Scotland and Germany have been inviting me to come. I am also open to working with local and international promoters who want me to perform at their venues.
Ntsika will perform live at the One Room on Westbourne Road, Gqeberha, from 19:00. To purchase your tickets, visit: Tickets
Follow Ntsika on Instagram