Sunday will mark Heritage month and what better way to celebrate it than with delicious meals prepared by you and The Lazy Makoti?
What I love about September is that it marks a season that shows national and cultural pride. And food is one of the best ways to show what makes us unique as South Africans. Mogau Seshoene, founder of The Lazy Makoti has you covered with her favourite food recipe that you can prepare for your family: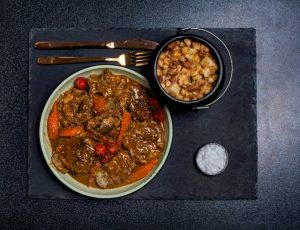 Here's her Umngqusho with lamb neck potjie recipe *Samp and beans*
2  cups samp
2  cups sugar  beans
1  onion
2  potatoes
1  large tomato
salt, to taste
1 beef stock cube
2 -3  teaspoons curry powder
Soak samp and beans overnight
Mix and wash the samp and beans together.
Put them in a large pot with 5-6 cups water and cook samp and beans until they start becoming soft. Check on it every 30 minutes or so to see if the samp and beans need more water
Once the samp and beans are slightly soft,  drain some of the water if there is more than a few cups of water still cooking with it and add the rest of the ingredients (the vegetables, oil, salt, spices and seasonings). Cook the remainder of time it takes until the beans are very soft (usually 20-30 minutes more). *Lamb neck potjie*
120 g  flour
1  Tablespoon  paprika
sea salt and freshly ground black pepper, to taste
1   kg lamb neck
2 T canola oil
1   onion, thinly sliced
2   garlic cloves, finely grated or crushed
4  leeks, washed and finely chopped
1 can chopped tomatoes can
4  beef stock, or enough to cover
6   baby carrots, halved lengthways
Mix the flour with the spices and toss the lamb neck in the spice mixture. Heat the oil in a large potjie on hot coals. Brown the meat all over, ensuring the coals do not touch the bottom of the potjie.
Add the garlic and leeks and cook for 5 minutes.
Add the tomatoes, stir and cook for 5 minutes. Add the beef stock and bring to the boil.
Simmer for 50 minutes, or until soft and cooked through. Add the carrots and cook for a further 5 minutes.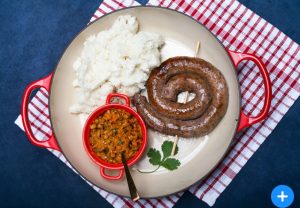 Chakalaka
1 onion, finely chopped
2 green chiles (Thai chilli), seeded and chopped
2 cloves garlic, crushed
50 grams  ginger, finely grated
2 tablespoons mild curry powder
1 green pepper, finely chopped
1 red pepper, finely chopped
1 yellow pepper, finely chopped
4  carrots, grated
2 chopped tomatoes
1 canbaked beans
Salt and freshly ground black pepper
Heat the oil in a pan and fry the onions until soft and translucent. Add the chiles, garlic and the ginger. Add the curry powder and stir to combine. Add the bell peppers and cook for another 2 minutes. Add the carrots and stir to make sure they are well combined with the other ingredients and coated in the curry powder.
Add  in the tomatoes and Cook until the mixture is well combined and slightly thickened, 5 to 10 minutes.
Remove from the heat and add the baked beans and stir to combine; season with salt and pepper. Serve hot or cold.
Mopani Worms in peanut sauce
Peanut butter (3 tbsp
Onions (1/2 onion, chopped)
Mopane worms (250g).  Soak your mopane worms in boiling water (500 ml), salt (2 tsp) and vinegar (90ml, white vinegar) for about 2 hours. After 2 hrs, drain and put the mopane worms in a pot. Add a little bit of water, close pot and bring to the boil for
5 minutes.
Use a colander to drain off any excess water. Heat oil in the pot, add the onions and soy sauce (1 tsp) . Fry for a minute.
Return the mopane worms to the pot and fry for about 3 minutes, stirring occasionally. Add the peanut butter and mix. Serve with hot pap
What's your favourite traditional meal?