27 year old radio personality, Sabelo Mtshali shares his passion for radio, his new entrepreneurial venture and his success tips to young people
What attracted you to broadcasting?
I grew up with a family that loved music. I thought I would be a scientist since my dad had a vision of me making the world a better place somehow. But I have always had the ability to make people feel good and influence their moods everyday through my personality and that's how radio came into place. I was 14 years when I had my first taste of radio at Love Life, a community radio station in KZN where I am from and that's how the radio bug bit me.
Tell us how you broke into the commercial space?
My first commercial opportunity was at KFM (94.5) in Cape Town and that happened through sending my demos to every radio station in the country. I started doing a graveyard show at KFM and had an amazing time there but wanted more challenges. I then joined 94.7, also doing a graveyard show. But I always wanted to be on YFM, so I joined the Y Academy in 2010 and as they say the rest is history and I worked my way up to the best drive show, which is from 3m to 6pm.
Who, in the radio space have you always looked up to?
I am inspired by a lot of radio personalities, but one who stood out for me has been Linda Sibiya who was at Khozi FM, a station I grew up listening to. I also love Vicky and Lady D. My community radio station introduced us to the internet and that is how I heard of stations such YFM and Highveld, where I listened to the likes of DJ Fresh, Alex J, Gareth Cliff and Bob Mabena who has created longevity in radio. Internationally I look up to Howard Stern who show that hard work does pay off.
Let's talk about your entrepreneurial experience, tell us about your partnership with Kush Koncepts?
This partnership came at a time where I wasn't open to going into business this year because I had a bad experience with my clothing line recently. They came on board when I was just enjoying my new-found discovery, which is vaping. I kept on saying no because they wanted me to be their brand ambassador. They were persistent to a point where they even allowed me to come out with my own flavour, which is passion fruit and lime. I have always been conscious with working with a brand that wants to work and listen to my ideas instead of thinking it's enough to give me a pay cheque. And that's what I love about my partnership with this brand and the market we are targeting. I enjoy focussing my business model on what I do on a day to day basis, which is vaping and monetising how I live my lifestyle.
What attracted you to vaping?
I stopped smoking hubbly after founding out that it could lead to throat cancer. A friend of mine introduced me to vaping, which is a healthier alternative to smoking anything. I liked it because of the fact that it doesn't affect your health in anyway.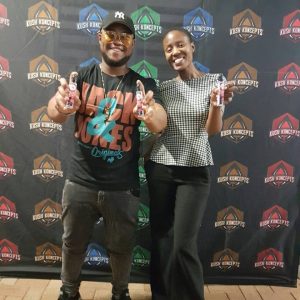 So what is the difference between smoking and vaping?
We all know that smoking has many health effects, and it takes eight hours just to get carbon monoxide from your blood system. Since vaping doesn't have harmful effects it is a safer, healthier and tastier way to quit smoking.
Who is your target market?
Its young people, especially those who are trying to quit smoking. With the flavours that I am introducing my core audience are women because I believe women have a stronger influence in the market than men.
What can we expect from you for the rest of 2017 and in 2018?
I had so many milestones this year such as being a dad. Next year I want to go back to the drawing board with the relaunch of my clothing label because it was very successful in how it inspired my market. I am dropping music as well as my hustle in getting back to television. I started my online venture called Best Live TV, which has more than 500 000 views so far. There is a lot I have on the pipeline next year, especially with music, my clothing label and travelling.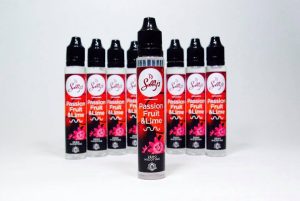 How can one build a brand for themselves?
First understand why you are doing what you are doing; what is your brand about and what does it represent? What does it stand for? Once you understand those core things than it's easy to convince the next person to invest in your brand.
Who is DJ Sabby as a brand?
DJ Sabby believes in giving nothing but the best in whatever he does. He believes in uplifting the next person who doesn't have the information and resources they need to make their dreams come true; hence we have initiatives that give back such as Schoolbags to Kids where I donate bags to primary school kids. I motivate school and varsity kids. I believe that if you feel you are the best you have to help people feel like they are the best. I am very ambitious and motivated. I love sharing information and making people feel happy and that's why I am on radio.
What is your advice to people who want to make a success of themselves in whatever it is they want to do?
Embrace your journey. Everything has a season. Sometimes it takes ten years to have one year that is amazing. Work hard because you don't know when your prime time will come and when it does you have to be ready. Don't give up, your time is coming.
Catch DJ Sabby weekdays on YFM (99.2) from 15:00 PM- 18:00 PM
Connect with him on:
www.facebook.com/sabby.da.deejay
Twitter: @DJ_Sabby
Instagram: @dj_sabby