From chicken with a creamy sauce to grilled chicken salad, keep your family coming back for more delectable recipes this festive season
Chef Nono has been our favourite go-to chef for recipe ideas. What we love about her food is that it's easy to make and affordable. Here are some of our favourite recipes you should try this festive season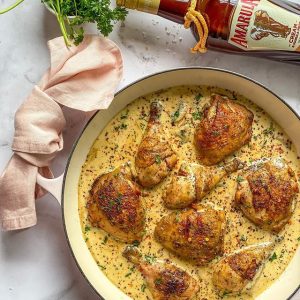 Chicken in a creamy sauce
Ingredients
8-10 chicken pieces
1/2 cup lemon juice
4 tbsp cajun spice, divided
1 tsp ground coriander
2 tbsp olive oil, divided
2 cups fresh cream
½ cup Amarula cream
1 cup sliced mushrooms
1 tbsp butter
1/4 tsp paprika
1 onion, finely chopped
1 tbsp chilli flakes
salt & pepper, to taste
Method
Drizzle chicken with olive oil and season with 1 tbsp spice, chilli flakes and ground coriander.
Bake chicken at 180 degrees for 25-30 minutes.
On the side; melt butter and fry onion and garlic until translucent. Now add mushrooms and paprika. Cook for a minute then add fresh cream, Amarula cream, lemon juice and cajun spice. Cook the sauce until
reduced. Now add the cooked chicken to the sauce, season with spice & pepper. Sprinkle chilli flakes and serve.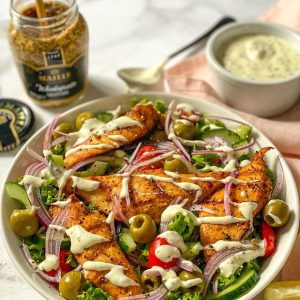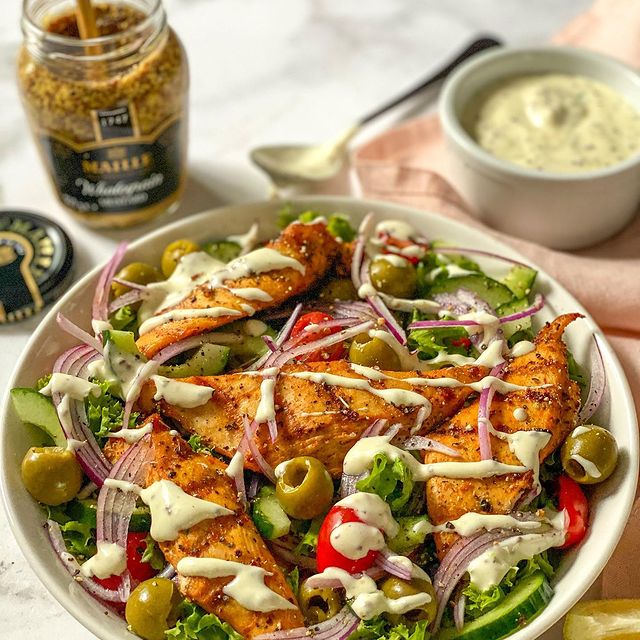 Grilled chicken salad
For the salad
2 cups lettuce, chopped
1 cup cucumber, sliced
1/2 cup cherry tomatoes, sliced
½ cup red onion, sliced
1 cup green olives
For the chicken
5 thick chicken strips
1/2 teaspoon paprika
1 tablespoon chicken spice
1 teaspoon olive oil
Combine all the ingredients, marinate and pan-fry until cooked.
For the salad
1 cup mayonnaise
1 tablespoon Maille Wholegrain Mustard
1 teaspoon freshly squeezed lemon juice
Salt and pepper to taste
Method
In a large salad bowl, add first the lettuce, and then top it with cucumber, cherry tomatoes, red onions, chicken breasts and olives. In a small bowl, mix together mayo, lemon juice, mustard and salt/pepper. Then, taste to check the seasoning and pour over the salad. Enjoy!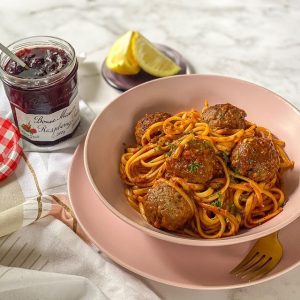 Spaghetti meatballs
Ingredients
2 cans, canned tomatoes
1/4 cup grated onion
2 tbsp Bonne Maman Raspberry jam
2 cloves garlic, crushed
900g minced meat
1/4 cup apple cider vinegar
3/4 cup flour
2 cups pasta, cooked (I used linguine)
1 egg
Salt and pepper, to taste
Method
Pour the canned tomatoes into a pan. Heat the pot over medium heat and bring tomato to a simmer.
While the tomato is reducing, combine the meat, flour, egg, onion, garlic, and season with salt and pepper. Form into small meatballs. Set aside.
Once the sauce has thickened, add the Bonne Maman Raspberry jam, apple cider vinegar, salt and pepper. Stir well to combine.
Drop meatballs gently into the sauce.
Lower heat and simmer for 45 minutes with lid partially open. Combine with spaghetti and serve.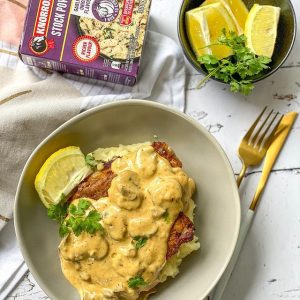 Creamy mushroom sauce
Ingredients
2 tbsp butter
1 tbsp olive oil
4 cups sliced mushrooms
1/4 tsp thyme – optional
1/4 cup white wine
1 tbsp Knorrox garlic & onion flavour stock powder (it's salty, you may not need seasoning)
3 tbsp cornstarch + 3 tbsp water (flour can be substituted)
2 cups fresh cream
Salt & pepper
Method
Melt butter in a pan and add olive oil. Add sliced mushrooms and brown for 5 minutes.
If using dried thyme you can add it now or if you use fresh add it at the end.
Cook for 1 more minute and add the wine. Stir to deglaze the pan.
Add stock and cornstarch, mixed with water. Cook for 3-4 minutes, witting frequently until thickened. Add fresh cream and simmer for additional 5 minutes, until thick and creamy.
Adjust seasoning if needed. Serve.