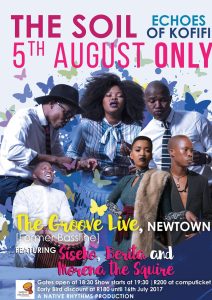 Award winning group, The Soil has taken the music industry by storm over the years. They share their music journey, their success tips to young people and their women's day show on Saturday, 5 August 2017
 What do you enjoy about working as a band and what are some of your career highlights?
The fact that there are three creative minds to work with in order to come up with magical songs. There are quite a few career highlights but performing at the Apollo Theater three times is one of them and of course collaborating with Ladysmith Black Mambazo.
From your experience what are the misconceptions about the industry you are in and why?
That everything is given to you on a silver platter once you blow up as an artist. That's not true because you still need to work just as hard if not twice as much on your craft and everything else that comes with it.
Take us through what inspires the music you make, and what are some of your favourite songs?
All of our songs are our favourites because each song tells its own story. Our influences range from real life events or challenges all the way to re-imagining what Sophiatown was like, through music.
Echoes of Kofifi, what is your story behind it and how is it different from your previous albums?
The underlying concept of the album was sparked by the political hardships and the fun times that our parents experienced under the Apartheid regime, especially those that lived in Kofifi and the parallels that mirror the now generation.
If you could change anything about your career or industry what would it be?
We would get rid of the corrupt system (especially the radio intake of new songs from different artists), that now unfairly decides which artists should be played on the airwaves and which ones shouldn't.
How would you guys describe success and have you reached it?
Success means different things to each of us and when we started, we set out to heal as many souls with our music and we are happy with the success rate so far but we all know how big the world is, so until we've covered every corner in the world, we will not stop.
How do you balance your hectic careers and family time?
It is hectic but we all have cool family support structures that make all of this seem so seamless.
 What is the main message you want to spread through your music?
Love.
Tell us about the women's day concert you are performing tomorrow, what is the story behind it and what should fans expect?
Our "The Soil Family" can expect an amazing night of magical music taken from our latest album titled Echoes Of Kofifi. They are in for a treat, an extension of the stories found within the album.
What are your success tips to young people who want to build successful careers and businesses in any field they are passionate about?
Research as much as you can, attend as many free workshops as you can, believe in yourself, be patient, focus and respect your craft, always.
Make sure you make your way to The Bassline in New Town tomorrow at 18:30 for a magical night with The Soil.
Connect with The Soil on:
https://www.facebook.com/thesoilkasisoul/
Instagram: @thesoilmusic
Twitter: @TheSoilMusic