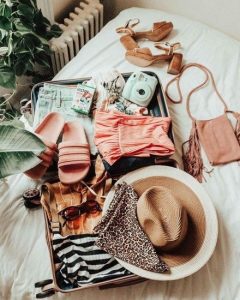 Warmer days mean one thing, it's travel o'clock. So make sure you are on time for a memorable experience with these six travel tips
So, you've booked your airline tickets to your ultimate bucket-list destination and you're counting down the days until you leave. But while preparing your Instagram feed to share your travels with the world, here are a few steps to ensure hassle-free travels.
Get your name right on the booking: it seems almost too obvious to mention, but airlines have to abide by civil aviation authority regulations, so the name on the booking must conform closely to the name on the identity of the passenger. There's a little leeway: spelling can differ, but not names. So if your name is spelled Kerry on the booking and Kerri on your ID, you'll probably be allowed to board. But if your ID lists your first name as Richard but you've booked your ticket as Rick – because everyone calls you that – you're likely to be prevented from boarding. It's frustrating and can even be expensive, but airlines are likely to be fined if they flout the regulations.
Give yourself time to get the documents you need: visas, passports and other documents for international travel can take time to organise, and you may have to book weeks ahead to get a visa interview. The more time you're able to give yourself for that, the better. Immigration officials will, for example, check that you have enough empty pages in your passport for stamps. This varies from two to four, depending on which country you're visiting. Driving overseas? You'll need an international driver's license.
Check entry requirements: imagine that you're flying to Paris via London. You check all the criteria and the evening that your flight leaves you arrive at the airport and aren't allowed to board because you don't have a transit visa. Rules are rules: even if you only spend a couple of hours at Heathrow Airport, you need a transit visa.
Check on your booking conditions: let's say you've booked to fly to Mauritius in a fortnight and return home one sun-kissed week later. Fortune smiles on you and you find you're able to leave four days earlier and spend a little more time in the island paradise. You cancel your original outward booking and pack extra sunscreen. A blissful week of seafood and watersports passes, and you head to the airport to fly home. To your dismay, you find that your return flight was canceled when you canceled the original outbound flight. Moral of the story: check on whether changing one leg of your journey affects the other legs.  Also, know the rules for changing your ticket: many airlines, including low-cost airlines, will charge you for changing your booking.
Get in the cloud before you fly: keep a list – and copies – of vital documents. Frequent travelers often have several copies of their passports, accommodation bookings, and other important material. One hard-copy and another saved to the cloud so that even if they lose all their luggage, including that which they're carrying, they still can still access a copy. If you don't have access to a printer when you check in online, take a picture of the booking code. You'll need that and your surname to print your boarding pass at a self-service kiosk at the airport. It saves you having to queue at a check-in counter.
Notify your bank about your international travels: credit-card fraud is a sad reality and banks will look for unusual activity on your accounts. If they don't know you were planning to travel internationally they may freeze your account. The easiest solution? Go to the branch of your bank at the airport before you leave, says O'Connor. They may ask for your boarding pass and ID and will clear your bank-card for international use.
Share with us your traveling experience on the comments below:
Words:  Desmond O'Connor
Image: Pinterest