If you are looking for ideas to create delicious and memorable meals for your loved ones this week, try these simple recipes from Chef Nono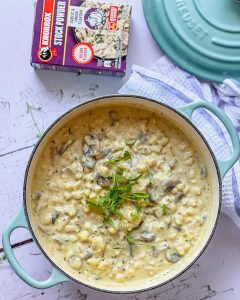 Creamy samp
Ingredients:
2 cups samp, boiled until soft
1 small onion diced
1 tbsp butter
500 g mushrooms, sliced
salt and pepper to taste
1 tsp dried thyme
1 tbsp Knorrox garlic & onion stock powder dissolved in 1 cup boiling water
2 cups fresh cream
1 tbsp cornstarch
Method:
Saute onion in butter until softened.
Add mushrooms, salt, and pepper. Cook until mushrooms have released juices. Add thyme and cook until fragrant, about 1 minute.
Add the stock to deglaze and loosen any bits off the pan and simmer for a few minutes until the stock has almost evaporated.  Add the cream. Simmer for five minutes.
To thicken the sauce further, combine cornstarch with 1/2 cup of water and mix well. Add cornstarch mixture a little bit at a time to reach desired consistency. You may not need all of the cornstarch mixture.
Let simmer for a minute.
Now combine the mushroom sauce mixture with samp and cook on low heat for five minutes. Serve.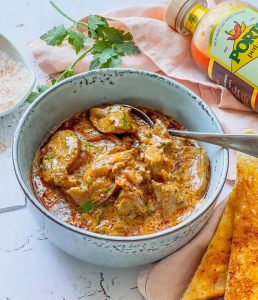 Saucy peri peri chicken liver
Ingredients
500 g chicken livers, cleaned
1 cup fresh cream
1 cup Porto Peri Peri sauce
1 tsp fresh garlic, minced
1 tsp paprika
1 onion, sliced/chopped
3 tbsp olive oil
Salt & pepper, to taste
Method
Fry onion in oil & add garlic and paprika. Cook until onion is cooked through. Add the livers and seasoning and cook for 2-3 minutes. Now add fresh cream and the peri-peri sauce. Simmer for 8-10 minutes and serve. Enjoy!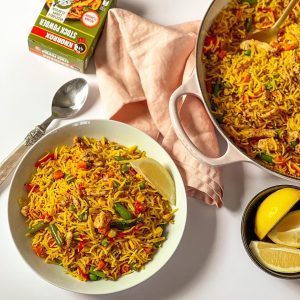 Fried rice
Ingredients:
4 medium chicken breasts
6 rashers of bacon
2 tbsp Knorrox veg stock powder
1 white onion
2 cups basmati rice
1 clove garlic, minced
Pinch turmeric powder (optional)
2 tbsp soy sauce
2-3 curry leaves
Vegetables of your choice
Method:
Heat oil in a pan. Dice the chicken breasts, bacon, garlic, curry leaves and onion and combine in the pan. Cook until the chicken is cooked through. In the meantime combine rice, veg stock powder and turmeric; and boil, this will take 10-15 minutes. Once cooked, drain and add it to the pan along with any other vegetables you'd like. Add soy sauce to the pan and combine. Serve the fried rice on its own or as a side dish.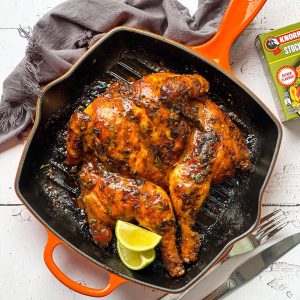 Roast chicken
Ingredients:
Whole chicken
1/2 cup melted butter
1/2 cup prego (optional) Spice Rub
2 teaspoons paprika
1 teaspoon garlic powder
1 teaspoon onion powder
1/2 teaspoon cumin
1 tsp Knorrox veg stock powder
Salt & pepper
1/4 to 1/2 teaspoon cayenne pepper (optional)
Method:
Preheat the grill pan. Clean and oil well.
Pat dry the chicken. Cut the backbone out of the chicken with sharp kitchen scissors.
Give all sides of the chicken a brush of butter and rub with the spice rub. The prego sauce later is optional.
Start with the skin side up for 10 minutes. Then flip to skin side down for 8-10 minutes. Watch the colour and don't over brown the skin. Flip back to the skin side up. (Not done yet.)
Now baste the chicken with the sauce and put it in the oven and cook until chicken is cooked through.
Let sit for 5 minutes then cut and serve.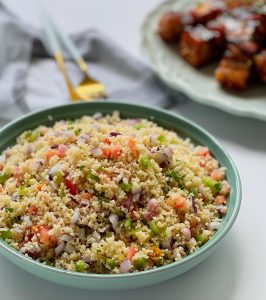 Couscous
Ingredients: 
1 cup dry couscous
1 1/2 cups boiling water or hot vegetable stock or chicken stock.
You'll also need a heatproof dish with a lid.
Method:
Place the dry couscous in the dish and add the hot liquid. Stir quickly and cover it immediately.
Allow the couscous to absorb the water for 5 minutes (while it's resting, the couscous will absorb the liquid) and then fluff with a fork. Couscous should be light and fluffy, not gummy.
Notes:
* Couscous can be served hot, cold, or at room temperature.
* You can "jazz it up" and add your favourite veggies/toppings and seasonings.
Connect with chef Nono on:
Facebook: Facebook.com
Instagram:  Instagram
Be sure to get her cookbook, order it from her social media account.