From broccoli salads to mac and cheese pasta and peppermint crisp tart, why not spoil your loved ones this week with these delicious meal ideas?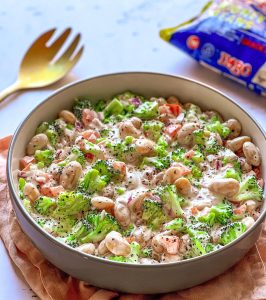 Broccoli salad with the addition of Imbo beans kidney beans (white beans)
Ingredients
2 cups coarsely chopped broccoli florets
2 cups chopped tomatoes
1 cup finely chopped red onion
1 cup white beans, boiled until soft and drained
salt and pepper, to taste
2 cups mayo
Method
In a bowl, add broccoli, tomatoes, onion and beans. Dress with mayo. Toss gently and serve.
NB: You can also add vinaigrette instead of mayo.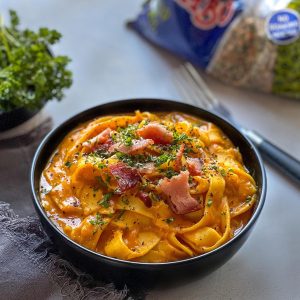 Cheese sauce pasta
2 tbsp olive oil
3 cups chicken or vegetable stock, divided
1 cup Imbo beans uncooked soup mix
1 onion, chopped
3 tbsp butter
1/2 cup plain yoghurt
1/2 tsp turmeric powder
1/2 cup cheddar cheese, grated
Salt and pepper, to taste
Uncooked pasta
Method
Cook the pasta according to the package directions.
Rinse the soup mix. Bring 2 cups of stock and 1 cup of water to a boil in a large pot. Add the soup mix and cook until tender. Drain excess liquid. Set aside.
Melt the butter in a pan over medium-high heat, add the onions and turmeric powder and sauté until the onion is soft. Transfer the onion mixture to a blender with the soup mix, 1 cup stock, 1/2 cup yoghurt. Puree until smooth.
Transfer sauce back to a pot on the stove over medium-low heat. Add the cheese and stir until melted. Add the pasta and stir until combined; season with salt and pepper and serve.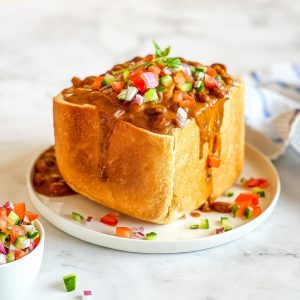 Bunny chow
Ingredients
2 cups Imbizo sugar beans
1 onion, chopped
1 tbsp curry powder
1 tbsp cajun spice
2 garlic cloves, chopped
1 big potato, quartered
2 tomatoes, chopped.
Method
Boil beans until soft, drain some water and set aside. On the side, fry the onions until soft and add the garlic and the curry powder. Once the garlic is soft add the potato and tomato. Add beans and spice. Allow ingredients to come to a simmer. Cut your bread loaf in half to make 2 quarters, and hollow out most of the insides. Pour the bean mix into the bread. Serve with sambals or carrot salad.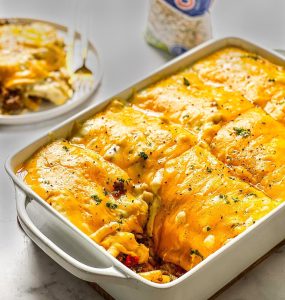 Mac and cheese pasta
Ingredients
1 kg beef mince
1 onion, chopped
4 cups white sauce
1/2 cup tomato paste
1 tbsp curry powder
2 tbsp cooking oil
1 cup Imbizo soup mix
Salt and pepper, to taste
1 1/2 cup (or more) cheddar cheese, grated
Macaroni (boiled and drained)
Method
Preheat the oven to 180 °C.
Boil soup mix until soft and drain.
Heat oil in a pot, add onions and curry powder; fry until soft.
Add beef mince, soup mix and tomato paste and simmer for 10 mins or until mince is cooked.
Add white sauce to the cooked macaroni and mix well.
To assemble: pour a layer of beef mince mix into the oven dish and pour the macaroni mix on top. Top with the remainder of the sauce and grated cheese.
Place in the oven and bake for 20 min until golden on top.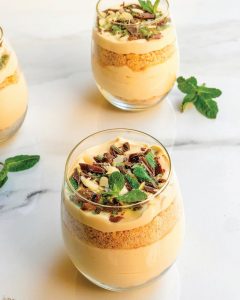 Peppermint crisp tart
Ingredients
1 packet of Tennis biscuits
1 can (360g) caramel treat
2 cups fresh cream
400 g Peppermint Crisp chocolate bars, crushed.
Method
Place the tennis biscuits at the bottom of your desired dish, or glasses (crush the biscuits if using glasses) ensuring that the bottom of the dish is covered.
Place the caramel in a mixing bowl and mix until smooth.
In a separate mixing bowl, whisk the cream until stiff peaks form, being careful not to over-whip.
Add the whipped cream to the caramel and combine well.
Spread a generous amount of the mixture over the tennis biscuits and spread evenly.
Add another layer of tennis biscuits and caramel mixture and continue this process until your glass or dish is full.
Sprinkle the peppermint crisp over the top and place in the fridge for at least 1 hour to set.
Connect with chef Nono on:
Facebook: Facebook.com
Instagram:  Instagram
Be sure to get her new cookbook. You can order it from her social media account.
Source and images: Instagram