Durban-based Chef Nono Mtshali's recipes are as delicious as they are creative and easy to make. Celebrate the women in your life this month with her recipes below: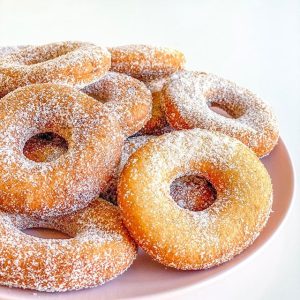 Breakfast:
Doughnuts 
INGREDIENTS
2 cups flour
½ cup white sugar
1 tsp salt
1 tbsp baking powder
¼ tsp ground cinnamon
2 tbsp melted butter
½ cup milk
1 egg, beaten
Oil for frying
METHOD
In a large bowl, sift together flour, sugar, salt, baking powder & cinnamon.
Mix in butter until crumbly.
Stir in milk and egg until smooth.
Knead lightly, then turn out onto a lightly floured surface.
Roll to 1 cm thickness and cut to shape of choice. (I used 2 different sized biscuit cutters.)
Carefully drop doughnuts into hot oil, a few at a time.
Fry, turning once, for 3 minutes or until golden.
Drain on paper towels until cool.
Roll in sugar or decorate with icing as desired.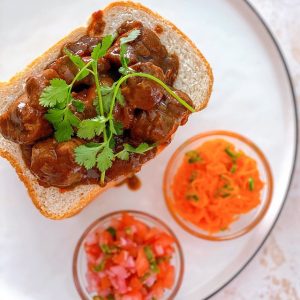 Lunch:
Lamb Bunny Chow:
Curry recipe:
INGREDIENTS
1 kg lamb knuckles, (bones removed)
60 g fresh rosemary
60 g fresh thyme
2 lamb/mutton stock cubes
300 ml boiling water
1/4 cup bbq sauce (optional)
3 cloves garlic, minced
1 big onion, chopped
2 tbsp olive oil
2 tbsp cornflour
METHOD
Coat knuckles with cornflour and brown them in hot oil.
Once browned; add onion, garlic & herbs and cook for about 5 mins.
Now add stock cubes in boiling water & pour over meat.
Cook on medium heat for about an hour.
Once meat is tender; add sauce & cook for a further 8-10 minutes.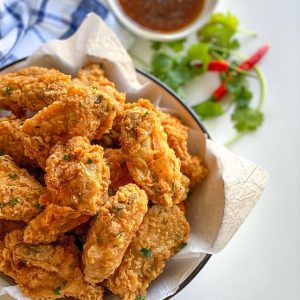 Snack:
Crumbed Chicken  Wings
INGREDIENTS
10 wings, cut into drummets/winglets
2 eggs
1/4 cup milk
For the dry mixture:
2 cups flour
1 tsp chicken spice
2 tsp salt
1 tsp black pepper
1/2 tsp cayenne pepper (optional)
Oil, for deep frying
METHOD
Wash the chicken wings and pat dry.
Whisk together the eggs and milk and set aside.
Blend together all of the ingredients included in the dry mixture.
Dip each wing into the egg wash and then into the flour mixture. Gently shake off any excess.
Fry in hot oil until golden brown or until cooked through. (Remember not to crowd the pan/pot).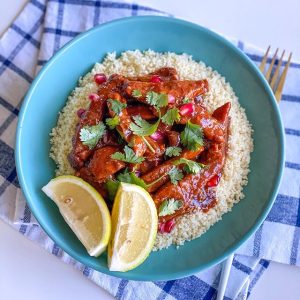 Supper:
Lamb and couscous bowl
LAMB INGREDIENTS
1 tbsp cooking oil
500 g lamb strips
1 onion, chopped
1 cup thick, sweet and sour soy sauce
1/2 cup lemon juice
2 tbsp brown sugar
1/2 cup water
salt and pepper, to taste
METHOD
Heat oil in a pan and cook onion until translucent.
Add the strips, season with salt and pepper
and cook for 3 minutes.
Add the soy sauce, water, lemon juice, brown sugar and stir well.
Let it simmer on medium-heat for 30 minutes. Enjoy with couscous.
Connect with chef Nono on:
Facebook: Facebook.com
Instagram:  Instagram
Be sure to get her new cookbook, order it from her social media account.