Eswatini-born multifaceted musician Nhlonipho is part of the Business Premium Jazz Festival taking place this Saturday. He tells us more about his music journey and success tips
You are a teacher by profession. What drew you to music as a career to branch into?
Music has been my passion since I was a kid. I had a privilege that my mother was my our conductor and music teacher for the infant choral choir in primary school.
What inspires the kind of music you make?
African sounds inspire my music. I love indigenous music and mix it with the genres I've been exposed to since I started music.
Where do you see yourself 10 years from now as a musician?
In ten years, I see myself as a well-branded and established artist that will also have enough resources to assist up-and-coming artists. I also have a project on my engineering skills that I'll be pushing on the side.
Apart from teaching and music, what other passions do you have? What keeps you busy and fulfilled?
I have a diploma in civil engineering and I've always drawn a plan on how to put together my construction company. I also have farming projects to do at home.
Which artist or producer would you like to work with and why?
I would love to work with Burna Boy and Nduduzo Makhathini. These are artists who inspire me and I love the sounds they are doing. I believe that if we can meet in the studio, we can create some magic.
What goals do you aim to achieve this year and in 2023?
My short-term goals are all around pushing my brand out there, making sure that people know who Nhlonipho is. In 2023, I want to push my brand and my new sound to the audience.
What can fans expect from you at the jazz festival on Saturday?
The jazz festival on Saturday will be great because I'll be giving the crowd my original sound and also healing people at the same time through music.
What have been some of the highlights and challenges you have experienced in your music career?
The music career is tough, but what I've learnt is that you need to be patient and focused to make it. One of my highlights this year have been the songs that were play listed on radio.
What is your definition of success and do you feel you have achieved it?
My definition of success is accomplishments of the desired target in what you are doing. I'm not yet there but I'm certainly on my way there.
Lastly, what are your success tips for young people?
The only way to make it is you need to pray, work hard and be patient.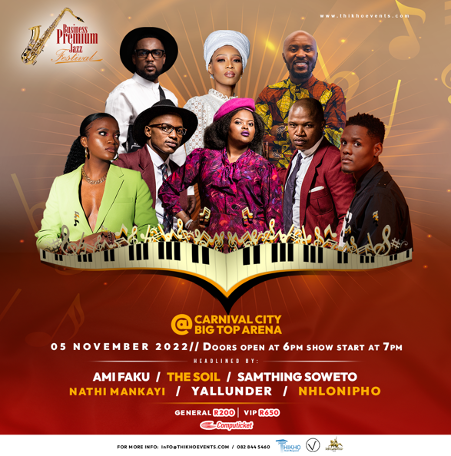 Tickets are available from R200 (general) to R650 (VIP) at Computicket. Purchase your tickets here: Jazz Festival
For more information, visit: Thikho Events
Plus, you stand a chance to win a double ticket to the event. Simply sign up to our newsletter, follow KDanielles Media on Instagram, and answer who you would like to take to the event and why. Don't forget to tag us with your answer.