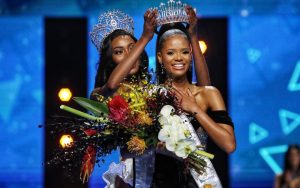 The 23-year-old Miss South Africa 2022 titleholder shares with us why she entered the pageant, as well as her success tips for young people
Nokeri, who hails from Tzaneen in Limpopo, obtained her BCom investment management qualification from the University of Pretoria and was working as a consultant for an asset management firm in Cape Town at the time of her crowning. The winner, who was also the winner of the People's Choice vote,  will represent South Africa at the world's three most prestigious pageants – Miss World, Miss Universe and Miss Supranational. She tells us more:
What attracted you to pageantry?
What attracted me to pageantry was seeing the impact that the women were able to make through this platform. I think that Miss South Africa is leading when it comes to women's empowerment, not only in unlocking a great future for themselves but it also helps them advocate for a cause that they are passionate about.
Why did you enter this year's pageant?
I decided to enter this year because what I stand for is an urgent cause, which  I think we need to start focusing on now, and I also wanted to enter after completing my degree because I believe that my education has empowered me to better utilise this platform.
Before being crowned this weekend, you worked at an asset management firm in Cape Town, is investment management your other passion and what did your role entail?
From a young age, I have always been passionate about economics and investment and was fascinated by how global economies are interlinked, as well as how certain socio-economic issues affect our economy and also our society. But my role in asset management was working with and guiding people to make the best investment that was suitable for where they were in life and what kind of returns they wanted to earn.
How do you plan on implementing causes close to your heart through the Miss SA platform?
Growing up in a rural village but being fortunate to pursue my studies in better-resourced schools outside my village, I quickly noticed the dread and unfair divide in, among others, the South African education system. I wanted to work with the Miss South Africa Organisation to facilitate an inclusive discussion with universities, government and corporates to bring relevant information to learners from underprivileged areas; and to mobilise different programmes, such as career mentorship, bursary programmes, leadership and entrepreneurial workshops. The aim for me is to increase computer literacy and eliminate the information barriers that exist in these underdeveloped schools.
What is your definition of success and do you feel you have achieved it?
Success to me means living a fulfilling life, and I find fulfilment in living a life of service, exceeding my own expectations and inspiring other young people around me. Currently, I have achieved all these things to a certain extent. But I believe there is so much more that can be done. I am content, but I want to do more in giving back to my community and to build my personal brand.
What would you like to be remembered for after your reign?
I want to leave a legacy where hope is reignited in our youth. I really want them to dream again and have aspirations again. I want to leave a trail of great women behind me who know their power and are aware of their ability to positively impact our country. I also want to equip learners with the resources to establish themselves as informed, educated and successful leaders in society. I also want to study further, expand on my commerce background and hopefully work with our government one day to see how we can improve our economic landscape.
Lastly, what are your success tips for young people?
My success tip is that there is no one way to success. If your first try doesn't work out, try another way; never give up when you fail. Failure shouldn't be the final point, but a redirection to try again with experience and creativity.
Connect with Ndavi on
Images: Instagram
Yolanda van der Stoep