Meet Sheldon Tatchell, the founder of  Legends Barbershop, which offers customers across South Africa, Lesotho, Botswana and Namibia professional grooming services
Launched in 2011 in Eldorado Park, which lies in the southern boundary of Soweto, little did self-taught professional barber Sheldon Tatchell know that Legends Barbershop would open over 60 branches over the years and win awards, as well as the hearts of many celebrities, including the late Riky Rick, who co-owned the brand. He tells us how his entrepreneurship journey has been and shares his success tips:
Was entrepreneurship something you wanted to venture into from an early age or did you have other career aspirations?
I have always been entrepreneurial; however, I didn't know what it was called. I remember during my childhood, I used to save my pocket money to stock ice-cream to sell. This grew to a point where I had a small tuck shop and had someone selling for me while I went to school. I was around 12 at that time.
I guess this spirit was pushed by the situation I grew up in. Like many South Africans, I grew up in an impoverished background. I stumbled across being a barber because I could not afford to buy things to sell. I could sell my time and a service as a barber. However, I had career ambitions growing up. Although my mother wanted me to be a doctor, I followed my father's footsteps and had a passion for boxing. I even became a provincial champion as an amateur, and became professional with two matches.
Why did you venture into the hair business?
When I started learning to groom hair at the age of 14, I visited different barber shops to see how they offered their services and what made this field so special. Also, in the community, people loved how barbers used to make them look good. That's how I fell in love with this field.
Share with us some of the challenges you faced when you started your barber shop?
When I started my barbershop, all I had was a clipper and a chair and my services were offered on my stoep. However, people loved what I did and the workload started getting heavier. I brought my friend onboard as a partner and we launched our shop in September 2011. We hired a team of barbers and things went well. However in December that same year, I got married. My wife and I went for a honeymoon for a week, and when I got back to the shop, it was closed, under his care. I was surprised since December is one of the busiest months. I found out that my previous partner did not pay our staff their weekly wages and rent was not paid out. Standing in front of closed doors made me feel like I disappointed my clients and team. So I temporarily gave up on my dream and worked at a bank for three years. However, in 2014, I relaunched the barber shop and the rest is history.
Why did you name your business Legends Barber? Is there a significant meaning behind this brand name?
When I opened shop in 2011, the business did not have a name. It was just called the Barbershop. During that period, we used to give back to the old-age homes, schools and certain organisations in the community by giving free hair cuts on our quiet days. We used to love going to the old-age homes so much that I was inspired to call the business Legends after the elderly, who I believe are the legends of our community.
You have groomed some of SA's and international elite customers, how did you create that opportunity for yourself?
Honestly, this was made possible through word of mouth. I was lucky that some celebrities also spread the word and that's how the relationship grew with some of them.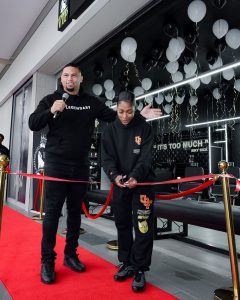 You partnered with the late Riky Rick in your business venture, share with us how that partnership came about and what business lessons did you learn from each other?
Riky Rick was one person who thought outside the box, not just in the music industry but also on things that would outlive him. We spoke about the partnership on numerous occasions. The opportunity came about when an estate agent called me about an available space at Waterfall Corner. Riky jumped onboard to partner with me as the place was around the corner from where he lived. I think what attracted him to the brand was its mission to change the lives of others as we train our staff and give them career opportunities. One of the lessons I have learnt from him was always be of service to people no matter their calibre or social standing. I am not sure what he learnt from me though, lol. I hope he rubbed of my drive and passion for the business.
READ: My Journey To Success With Riky Rick
In celebration of the late Riky Rick's 35th birthday on July 20, you relaunched one of your shops at Waterfall Corner, how successful was the day and what stood out for you?
It was an emotional day for myself and his wife, Bianca. It was emotional for me because Legends Barbershop Waterfall Corner was the birth of our official partnership in 2019. We really missed his presence, but we could feel his spirit. The day was very successful. People came in numbers to support our cause. The first 35 customers who came with blankets or winter essentials for the less fortunate were given free haircuts. This aimed to breathe life into the causes close to Riky's heart, which was giving back. People continued to show up on the day to enjoy the relaunch of the revamped store.
How would you define success and do you feel you have achieved it?
Success to me means what you can do for others. The more you help and give back to others, the more successful you become. For me, the aim to create more jobs and help feed families has in turn made my business become more successful. The ultimate successful for me will be being able to leave behind a legacy for the next generation.
Are there more goals you aim to achieve at Legends Barbershop, please name some of them?
The goal has always been to open 200 stores across Africa by 2025. Our slogan, which Riky Rick conceptualised and in which he was in one of our billboards, is Africa's number one barbershop. This is something we are pursuing towards. We are looking to grow other avenues. Our hair care range has been very successful as it's now being distributed at retail stores like Dis-Chem and other barbershops in addition to ours. We want to leave a positive mark in the hair industry, through training programmes, among other things. We also want to continue giving back to the community through our foundation.
How is your management style and what do you think sets your brand apart?
My management style has always been servant leadership in that I serve my team, who then serves the customers, which I believe sets this brand apart. I strongly believe that we exist because of people, who have to be happy to come back to us. I have loyal customers who have been with the brand since day one and it's mainly because of the good relationship I have built with them over the years.
Lastly, what are your success tips for young people? 
My success tips are be curious. Never stop learning, be hungry for knowledge and know all there is to know about your industry. Be humble. Humility plays a big role in where you are headed in life. In entrepreneurship, success comes and goes, the hype comes and goes but keeping your feet on the ground will keep you firm in whatever season of your journey. Be tenacious. In other words, never give up on your goals and dreams. It took two years of knocking and rejections before we got our hair products in retail stores. Eventually, that one door will open to give you your next break.
Follow Sheldon on:
Visit Legends Barbershop's Website
Image source: Instagram