After tantalizing his fans for over 36 hours on social media, award-winning rapper Riky Rick finally releases his highly anticipated Stay Shining single today exclusively on iTunes and Apple Music.
The single features Cassper Nyovest and Professor, with production from Major League DJz and Ali Keys. Judging by the frenzy on social media Stay Shining is shaping up to be one of the soundtracks of 2017/2018!
"Stay Shining is the best and most enjoyable song I've ever made. I really had fun making this record more than any other song because it brings back the nostalgic feel of kwaito. We are doing what we authentically have in our blood," said Riky Rick excitedly.
"Also, to have Cassper Nyovest and Professor on the track is one of those amazing experiences where a song bridges the gap between what's happening now and what happened back then and figuring out exactly what the authentic South African sound is," Riky added.
"I made the beat first and after that, I sat with it for a while and then I recorded the hook. I had that hook in my head for almost three to four years. Cassper (Nyovest) jumped on the track naturally because he's really the king of kwaito verses. Professor heard it in my car and asked me to send the record and he sent me back the vocals the next day" said the rapper affectionately known as King Kotini.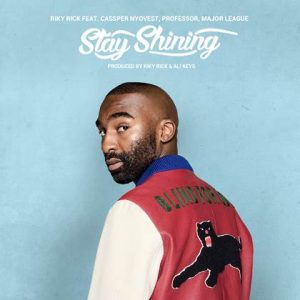 Speaking on how invested his fans have been with the release of Stay Shining, Riky Rick dedicates this very inspirational song to them: "It's always a blessing when you can get the fans to be excited about the music that's coming out. The concept of Stay Shining for me speaks to everyone. It's really about getting up when you really down – not feeling sorry for yourself when you down and just constantly trying to get up and trying to stay up."
Stay Shining is exclusively available on iTunes and Apple Music from today for the next 6 days and will then become available on every digital streaming and download platform across the world from Friday 13 October.
At present, the hashtag #Stayshining is trending on Twitter and the single is currently number one on the iTunes Hip-Hop Chart and number two on the main iTunes Chart.
Download or stream Riky Rick's new single, stay shining below:
HTTPS://SONYMUSICAFRICA.LNK.TO/STAYSHINING
Facebook: Riky Rick Makhado
Twitter: @rikyrickworld
Instagram: @rikyrickworld
Source: supplied