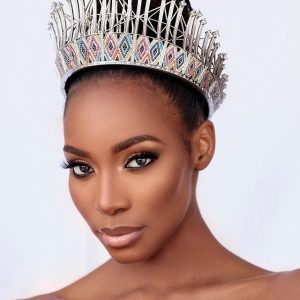 Lalela Mswane was crowned Miss South Africa 2021. She talks to KDanielles Media about her campaign, what she wants to be remembered for and her success tips
Take us back to your childhood, what attracted you to pageantry and which Miss South Africa titleholder inspired you to join Miss SA?
I was seven years old when Claudia Henkel was crowned and that truly planted the dream in my heart. I was, however, bullied for the way I looked for the better part of my childhood and that dream took the back burner as I didn't believe I had what it took to be a Miss South Africa.  It was when Rolene Strauss was crowned Miss South in 2014 that the dream was re-ignited and I felt I had to see it through.
You hold a bachelor of law qualification from the University of Pretoria, what attracted you to the law field?
From a young age, I've always had a passion for justice, fairness and equitable outcomes even though at that age, I didn't really know what those were but in hindsight, I identified that passion. I also felt affirmed by my steadfast and opinionated nature to study law.
Your Miss SA campaign #BeReady aims to tackle youth unemployment through entrepreneurship, share how you will do that?
Through various initiatives. The primary initiative being an online entrepreneurship course where entrepreneurship skills, assistance and guidance will be provided to the youth at a school level.
If you could host three women, locally or internationally, for dinner who would they be and what issues would you address with them?
Oprah Winfrey, Ellen Johnson Sirleaf and Nkosazana Dlamini Zuma. I would address patriarchy because regardless of a woman's experience, education or abilities, the patriarchal nature of our society fosters the perception that women are less qualified and less competent than men. I would also address the economic inequality so prevalent in society and access to equal opportunities.
You are also a dancer and model, share some of your highlights as a model.
One of the highlights of my modelling career is when I booked my first national billboard campaign when I was 17 and it was a ballet shoot so I got to incorporate my passion and job, which was pretty special.
What is your definition of success and do you think you have achieved it?
My definition of success comprises three components. Firstly, I must be happy engaging in whatever it is I am doing. Secondly, I must generate an income from that engagement and lastly, the engagement must make a positive impact. By these standards, I think I'm somewhat successful although I'm still working towards being of even greater impact.
Apart from your campaign, what would you like to be remembered for after your reign?
I'd love to be remembered as a person who was generous in all aspects. Generous in love, kindness, respect, in the giving of my time and possessions. I want to be remembered as a person who wholeheartedly served others and gave of herself.
Share with us your short-term and long-term career aspirations.
Some of my short-term goals ate to successfully initiate the operation of my campaign #BeReady and to launch my clothing line. Some of my long-term goals are to obtain my master's in international humanitarian law and to be an admitted attorney.
South Africans recently voted for the municipal elections, how important is it for people to vote, and if you could, what are the two main things you would change in South Africa and why?
Voting is important because it grants you the power to decide on the quality of life you want for yourself and your community, and even future generations. Voting is your chance to stand up for the issues you care about. It also provides an opportunity for change. I would firstly make sanitary products free for all women in South Africa because these products are necessities and not a luxury. Doing so would also enable the girl child to fully focus on their education as opposed to missing school due to lack of sanitary products. Period poverty must come to an end. I would also make breakfast and lunch available to all school learners, particularly in impoverished communities as this is critical to learners' health and well-being and ensures that they have the nutrition they need throughout the day to learn.
Lastly, what are your success tips for young people?
I encourage our youth to pursue their passions and to not be afraid to turn their passions into profit because their profit will end up supporting their passions. I also implore them to persist and be relentless in pursuit of their dreams. Challenges are encountered while climbing the ladder of success but nothing worth having ever comes easy. In essence, they have to be steadfast in the face of any adversity they may encounter and know that they will conquer and succeed.
Connect with Miss SA 2021 on
Image source: @glamfuel and official_misssa