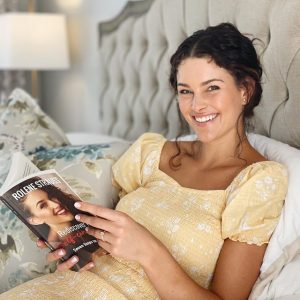 Rolene Strauss recently published a new book on self-confidence after completing her Master's degree. She tells us more and gives her success tips 
As someone who also battled with self-confidence, what or who inspired you to enter Miss South Africa?
 My parents raised my brother and me to believe that we can achieve anything we put our minds to and that when opportunities come our way, we have to grab them with both our hands. Miss South Africa was one of these opportunities. Jo-Ann Strauss, who was Miss South Africa 2000, inspired me with the same feeling of 'I can do anything' and I wanted to do the same for other young girls as well.
Were your career aspirations to always be a doctor? What sparked that career path?
 I grew up in a medical-orientated family. My mother was a nurse and my father was a doctor. So, the process was natural for me to be a doctor. As a young girl, my nickname was Little Doctor  Strauss as  I always walked with my dad in the hospital and tend to patients with him. I would say that the effect my dad had on people's lives inspired me more than anything else.
You recently completed a Master's in coaching, share what made you decide on taking this degree?
 When I was in my final year of medical school, my husband and I were married for almost two years and my first-born son was born. That changed my aspirations when it came to medicine because at that stage, I wanted to focus more on my family rather than doing my internship and community service. So, I chose not to practice as a doctor and a Master's degree was a way of rediscovering myself and also helping other women out there to do the same, as I am very passionate about self-confidence and the effect it has on people's lives.
What have been your highlights of being Miss World?
 There are so many highlights, including travelling the world and getting a new perspective on life. I have learned that even though there are many different people, cultures and languages, we all have similar needs, as well as dreams and goals, and we have the power to help each other meet and reach those goals.
What is your definition of success and do you feel you have achieved it?
I define success as constantly working towards goals and dreams that are aligned with your value system and with your God-given purpose. I don't think you achieve success but you attract it by the person you become.
Why did you write your book, Rediscover your self-confidence? What is the main message you want readers to embrace and apply to their lives?
I have a very interesting personal struggle with self-confidence, which started when I was 16 and I share that experience extensively in my book. But the main message I would like to share is that you are not alone, there are so many women who are struggling with self-confidence and it has such a big effect on your personal and professional life. It's proven to affect the way you think, your behaviour, your susceptibility to depression, how successful you are and how easily you reach your goals. Another message is that it's not true that you are born with self-confidence, it's a skill that you can develop and it magnifies all your existing skills, talents and potential. God gave you talent and purpose, but if you don't have the confidence, how will you reach your full potential? Self-confidence is a fertiliser to bear fruits for the world to benefit. So, the first part of the book shares my story and the second part shares practical seven steps to develop self-confidence.
If you could be on a global stage to give a message to women, what would it be?
 It would be that self-confidence is not selfish and it allows you to live your God-given purpose, to shine your light and to make a difference. Self-confidence is a special skill that helps you to be true to your values and life's purpose.
Lastly, what are your success tips for young people?
It's important to know the rules of the game when it comes to life and that is to know your value system. When you are clear on your values, difficult decisions you have to make become easier because you will know whether certain choices or decisions support or stray from your values.
You can purchase the book at Exclusive Books for R297,00.
Follow Strauss on
Facebook:  @OfficialRoleneStrauss
Instagram: @rolenestrauss
Twitter:  @RoleneStrauss