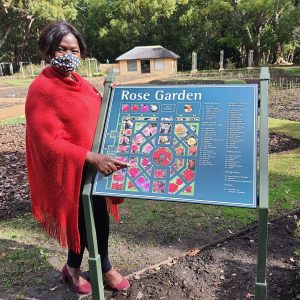 Prof. Thuli Madonsela is globally renowned for her social justice work – but not everyone knows that this inspiring South African also has an exquisite rose named after her. 
Professor of law at Stellenbosch University and former public protector has a rose named after her, which was announced in October 2019. About this honour, Madonsela said, "It's very misleading this rose. It looks fragile and vulnerable but it is very strong at the end of the day. That is a woman for you, misleading in a sense that they look fragile but they are very strong especially together," she said.
In August 2020, a perfect time which celebrates Women's Month, Madonsela personally planted her namesake rose at the Vergelegen wine estate in Somerset West, just in time for visitors to view it this summer.  The beautiful pink and white, hybrid tea-shaped roses are said to be disease resistant, hardy, and stands up to our climatic variations.
Vergelegen's famous rose garden was revamped in 2016 and The Thuli Madonsela rose is the latest addition to an extensive collection of over 80 types of roses.
Vergelegen's MD Wayne Coetzer says, "Vergelegen has long been associated with powerful, visionary women, such as former owner Lady Florence Philips, who was a great social reformer and patron of the arts. We are delighted to now have a Thuli Madonsela rose in our collection."
Anja Taschner, Director of Ludwig's Roses, which bred and named the rose after Prof. Madonsela when she was appointed Professor of Law at Stellenbosch University, has said:  "Thuli Madonsela is a woman of great character, a woman who for South Africa symbolises what the Lady Justice stands for. With this rose we honour all who take a stand for what is morally correct, we honour Prof. Madonsela for her achievements and give her the nobility of the rose to continue her pursuits."
This beautiful rose can be ordered from Ludwig's Roses. A portion of sales is donated to Prof. Madonsela's Thuma foundation, founded to deepen and defend democracy and the rule of law.
Vergelegen is currently open to visitors, following strict Covid-19 health and safety protocols.
To visit Vergelegen: Opening hours Monday-Sunday 09h00-17h00 (last entry 16h00). Entrance R10/adults and R5/pensioners and scholars. Pensioners free on Mondays.
Ludwig's Roses: https://www.ludwigsroses.co.za/shop/hybrid-tea/thuli-madonsela/
Thuma Foundation: https://thumafoundation.org/
Source: supplied
Additional source: IOL
Images: thumafoundation.org and supplied