June is vitiligo awareness month. Kagiso based Nobuntu Morake shares her experience with the condition and her message to others.
My name is Nobuntu Morake, a young woman from Kagiso township, in the West of Johannesburg and I am living with Vitiligo. Vitiligo is a skin condition that occurs as a result of dead melanocytes(cells that give melanin) which is caused by a deficiency of Vitamin B, which then makes the skin have white patches. I was not born with Vitiligo, actually, no one is born with Vitiligo, one only develops the condition after birth, and I developed the condition when I was 8 years old. It started with a small white patch on my chest, it grew and spread to other areas of my body, knees, hands, eyelids. It was goodbye to the days of me wearing short skirts and dresses, I wore clothes that covered up the patches, I started to have a low self-esteem, I couldn't stand being stared at, it was frustrating and overwhelming. Initially, I was a reserved and confident child before I developed the condition, but I became a different child after I lost my melanin. I became bitter, self conscious and socially withdrawn, it took away my childhood euphoria, I hated myself for looking different from everyone else. At the time I developed the condition, it was still rare and not many people had knowledge of it, and usually society rejects anything that they aren't familiar with and unfortunately, I experienced rejection because I had a strange and rare condition. I also rejected myself, because I had allowed society to control how I felt about myself. I battled with self acceptance almost my whole teenage life, I kept quiet for a very long time about my battle with self acceptance, I was secretly looking for people who were also living with the same condition hoping I will feel better after I see them. I only knew two people who had the same condition, Leleti Khumalo and the late Prof. Khambule, both prominent figures, and I used to comfort myself with them but I wanted to meet them personally, which didn't happen. Anyway, I had to soldier on, amidst rejection and discrimination in the community and in many social places, I'd be given all sorts of names and be humiliated but it got to a point where I got used to the painful treatment.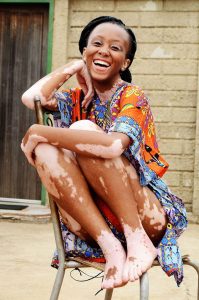 I still battled with self-acceptance, in my late teenage years, I was still discovering myself and trying to fix myself. So in the year 2015, I was introduced to a beautiful lady, Gaone Tlhong, who is also living with Vitiligo and is the founder of Beyond Vitiligo South Africa(BVSA), an organisation that was formed to give support, and raise awareness for Vitiligo. Gaone became the person I have been searching for since I developed the condition, and I remember vividly how excited I was to finally meet someone who identifies with my personal plights and struggles. She contributed so much in my journey of self- discovery, empowering, embracing and supporting me, making sure I accept myself the way I am, and indeed her efforts were prolific. I've grown to become a resilient and strong young woman, and I live to empower and support people living with Vitiligo, more especially kids who are clueless of the condition, and my work is to humanise(something I was denied in my childhood) them so as to prevent them from being adults who are recovering from their childhood. World Vitiligo Day(WVD) is celebrated every year on the 25th of June, for this year's WVD our international theme is "Research, Children and Hope for the future". To respond to the theme, my request is that may we accept and embrace children living with Vitiligo, let us be a society that embraces diversity and live in harmony.
My message to young girls: The worst mistake you can ever make is allowing people to control how you feel about yourself, detractors will always be there, of course, you can't control what they say about you but you can control how you react to them. I am a strong believer of "you are what you believe", so believe you are beautiful, don't seek people to validate your beauty, we are all flawed, and beautiful in our own unique ways. Beauty is/must not be associated with perfection if it is, then we are all not beautiful because we are all imperfect. Actually, true beauty is associated with perfect imperfections, your acne, your Vitiligo, your Albinism, your eczema, your burnt skin, is what makes you unique and, beautiful. Don't allow anyone to impose their own definition of beauty on you.
Other great figures living with Vitiligo: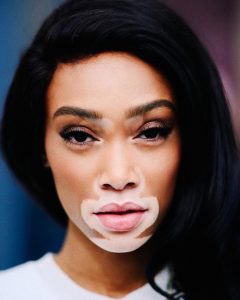 Winnie Harlow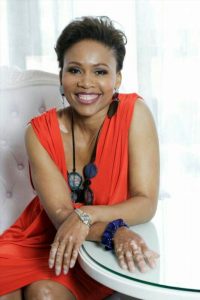 Lelethi Khumalo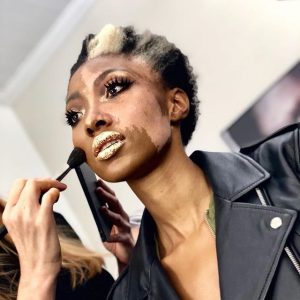 Kgothi "Iman" Dithebe