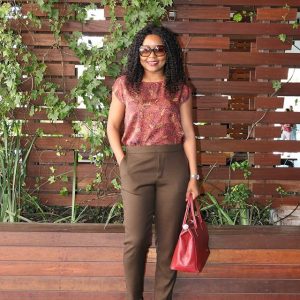 Social entrepreneur and founder of Fabulous Woman Awards, Pontsho Manzi shares a love letter to every woman ahead of the event taking place on 4 August 2018.
To all Fabulous Women. The time to celebrate our sisters is upon us again! The 5th Annual Fabulous Woman Awards 2017 seem like yesterday and they were epic! The 6th Annual Fabulous Woman Awards are hurtling towards us at a fantastic speed and will be hosted on the 4th August 2018 at the Radisson Blu Sandton hotel. It's been a long journey from the first event at The Venue in Melrose Arch in 2012. As long ago as it may seem in our 6th year, the commitment to promote ethical womanhood and bridge the intergenerational gap amongst women has become stronger than ever. The core of women who have formed a sisterhood that is united in its resolve to blaze a trail and open doors for legions of other women to follow is gradually growing.
In 2018 we have the pleasure of partnering with the South African Civil Aviation Authority (SACAA) in growing the awards and reach more girls than in previous years. We are thrilled that SACAA recognizes and reaffirms our belief that raising up a cadre of women who will take SA forward and ascend to greater heights with integrity and hard work remains supreme goals for women. This year's award winners once again stand on the shoulders of powerful and towering women leaders from all walks of life. It is not about social media presence or the amount of money any of the women we are recognising have made but the impact their actions continue to have in the lives of communities around them, especially other women and girls. In the years we have been holding the awards and working with many women on the ground, it is becoming patently clear that the upliftment and empowerment of women is more about serving others using non-financial resources than access to money. It is about influencing the community around you and other adjacent communities through selfless acts of kindness to less fortunate and disempowered others. Every one of us has something to give that someone desperately needs for survival.
Helping others is an often lonely road that involves personal sacrifice which includes pulling families and friends along on the journey they did not personally choose. On the family front, I am supremely blessed to have the unwavering support of my husband and kids who themselves are naturally givers, and instinctively know why the Fabulous Girls Foundation and I do this every year. I also have a fantastic team of volunteers without whom the task of organising the awards as they grow every year will be impossible. The increasing number of volunteers every year shows that the impact of the Fabulous Woman Awards and the Fabulous Girls Schools Outreach programme is bearing fruit and has an impact.
It is disheartening to listen to the news every day or wake up to yet another story of an abused woman or starving children. As much as it breaks my heart to listen to such stories, I am encouraged to know that these heinous crimes of violence against women are increasingly getting reported. Being on the ground, I also know that there are many moves afoot and work done by ordinary women, outside of the limelight of social media, to empower women and help us raise girl children in as normal an environment as possible. The awards are indeed a necessary cantilever to show that there are positive stories in the midst of a sea of despair threatening to overwhelm the country. With every girl child reached and every woman given support, the impact is evident. With responsible corporate citizens like SACAA giving support to our cause, the Fabulous Woman Awards and the Fabulous Girls Foundation hopes to extend our reach across South Africa and ultimately the rest of the continent.
As we move into 6th year of this premier event in our calendar, the need to intensify the call for identifying proper positive role models for our women, especially young girls, who are engrossed in the oftentimes non-authentic lives displayed on social media, has never been greater. The Fabulous Woman Awards are about ethics, integrity, agency and promotion of sisterhood amongst women. It is onwards and upwards from now on as the Fabulous Woman Awards brand enters a period of stability and growth. It has been a tough journey but it was worth it!
We owe a debt of gratitude to women and corporate sponsors who have supported this event and the work of the Fabulous Girls Foundation with their time, financial resources, and emotional support. No effort is insignificant and every bit of knowledge you have is one piece of information a girl out there does not have and desperately needs. I was recently brought to tears while visiting a school in the Western Cape where young girls truly did not believe there was any better life after matric than working as a cashier or cleaning rich people's houses. The message that says money follows dedication and consistency in school was eye-opening. Teaching someone to dream again does not cost much but the rewards are endless. We all have no excuses!
Let's make the Fabulous Woman Awards an even stronger fulcrum for social change and the advancement of the agenda for ethical womanhood and sisterhood.
See you at the awards gala dinner!
Love
Pontsho Manzi
Founder and CEO
Fabulous Woman Awards