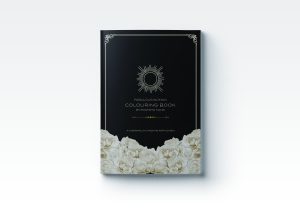 Award-winning businesswoman and motivational speaker launches a new colouring book that aims to be a therapeutic past time for women
We all live in a world that is coloured by the daily grind of the rat race, stressful social media, life's major decisions and choices, family/friends demands on your time and life's challenges in general. There is a desperate need for everyone, especially women, to carve out some ME time out of their busy schedules and just sit back, relax, disconnect from the world and reconnect with self. The colouring book is an avenue to disconnect to reconnect!
READ MORE: Beauty and the Business Talent
The idea for a colouring book came about when the creator of the Fabulous Woman Colouring Book, Pontsho Manzi, started doodling and colouring as part of her de-stressing regime. The experience brought calm into her life and brought everything into perspective after each time spent away from her hectic business schedule and social media engagements. The therapy found in colouring comes from the deliberate act of "Switching Off" in order to take stock of one's life. Colouring also reveals the mood that you are in and helps you appreciate those moments in life when you are happy and colourful while giving you early warning signs of depression when the chips are down.
READ MORE: The Six Books That Made a Difference in My Life This Year
"I have found colouring to be the most therapeutic and underrated pastime which affords me time away from everything to lock myself away from everyone and everything, and just BE me. It may be scary in the beginning to just switch off from the world and let the world spin on without you but the benefits are immeasurable" says Pontsho Manzi.
The Fabulous Woman Colouring Book is launching officially at the Colour Me Calm women's event on the 27th of April 2018 at The Capital on the Park in Sandton, Johannesburg. The event is an introduction to the art of colouring and appreciation of art, and a chance to meet the creator of the colouring book. Pre-launch ordering facility is open and the order book is rapidly filling up. The Fabulous Woman Colouring Book retails for R150 (excluding delivery charges) and is available for sale from the Orassi Luxe online store at orassi-luxe.myshopify.com, as well as directly via info@orassi.co.za.