Miss World 2014 Rolene Strauss is on a mission to help you rediscover your confidence, one chapter at a time. She shares the inspiration behind her new book
Rolene Strauss made South Africa shine on the global map when she was crowned Miss World in 2014, making her the first Miss World from South Africa in 40 years and only the third South African to win. Seven years later, this beauty is a transformational coach, a medical doctor, author, international speaker, entrepreneur, wife and mother of two boys. She tells us briefly about the book.
What inspired you to write this book?
After completing my master's degree in coaching and countless hours of coaching sessions with women who struggled with low self-confidence, I gathered valuable insights on how to build self-confidence in an achievable and sustainable way.
What can readers expect from your new book?
Surprisingly, some of the smartest and most beautiful women in the world struggle with low self-confidence. In this book, I share my personal journey of how I battled with insecurities and body image issues since I was a teenager, and even while wearing the Miss World crown. Rediscover Your Self-confidence is the ultimate guide with seven tried and tested steps for women who want the courage and confidence to fearlessly chase their dreams.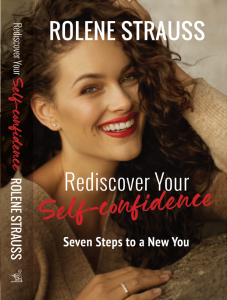 You can purchase the book at Exclusive Books for R297,00.
Follow Strauss on
Facebook:  @OfficialRoleneStrauss
Instagram: @rolenestrauss
Twitter:  @RoleneStrauss
Photo credit: SJ Van Zijl
Additonal source: Sun International