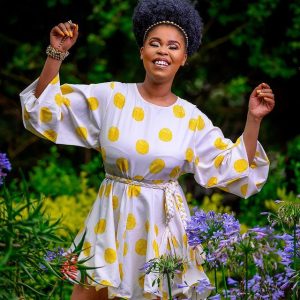 Zahara has marked Women's Month with her latest single, Nqaba Yam, from her anticipated album, which is set to be released on August 13. She shares her journey and her success tips
The most decorated artist in South Africa with over 30 awards and over 400 000 album sales since the release of her debut album, Loliwe, Zahara was recently named one of BBC's 100 Women 2020 –  a list celebrating inspirational and influential women across the globe, she maintains that her mission is to inspire through music. She tells us more about her music career, her latest single, as well as her success tips for young people.
What and who inspired your love for music, and when did you realise you can make a career out of it?
I would like to believe that music is a gift that I was blessed with from birth. I only realised I could make a career of it at varsity.
What has been the biggest highlight and challenge of this industry?
My biggest highlight would be my longevity in the industry, what people don't understand is how short the lifespan of a musician can be in our industry.  My biggest challenge is already a public matter that everyone knows about. My previous record label.
To that young girl who would like to be in the music business, what advice would you give her from your personal experiences?
The team you keep around you is as important for your career. Trust your instincts.
What inspires the lyrics of your songs and which one is your personal favourite?
Loliwe will always be my personal favourite. The lyrics are inspired by my personal life journey. The good and the bad.
Which artist, locally and internationally, would you like to work with and why?
Tracy Chapman. She is a legend.
What is your definition of success?
My definition of success is setting goals and being able to go above and beyond your exceptions when it comes to those goals.
If you can change anything about the music/entertainment industry, what would it be?
Contracts that would put artists first.
As the country celebrates Women's Month, what message of hope would you give to South African women?
Women are so resilient, and the past year has been a very difficult time. I say we must continue uplifting one another and just be kind to each person as we do not know what people are dealing with.
Tell us about your new single, Nqaba Yam, from your upcoming album, what inspired the song and who do you hope will relate most to the song?
The song explains how I feel, it is my heartfelt declaration that I'm going to endure until I see a new world – one where people are filled with love, and hopefully brings me back to the path of my destiny. I hope it does the same to everybody listening. It's a song everyone can relate to because we have all been through a lot.
Many artists have struggled to get by since the beginning of lockdown to curb Covid-19, how have you managed to sustain yourself, and cope psychologically?
I took the lockdown time to focus on creating the album. So there was a lot of writing through this time.
Lastly, what are your success tips for young people, especially those who are struggling to find employment or get their businesses off the ground?
Compare yourself to yourself and always seek advice from those who have done what you are working towards.
Nqaba Yam is now available on all digital streaming platforms https://warnermusicsa.lnk.to/Z5PyNJ0
Photo credit: Instagram
Follow Zahara:
Instagram: @Zaharasa
Facebook: Zahara
Twitter: @zaharasa