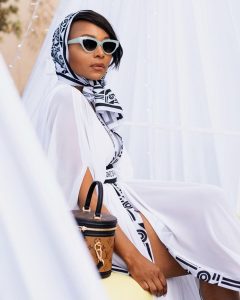 Stylist, fashion designer and founder of House of Fabrosanz Sandi Mazibuko is slowly taking her brand to new heights. She shares where it all began and her success tips
If you don't know Sandi Mazibuko, she's the fashion designer who dressed Miss Universe 2019 Zozibini Tunzi on her homecoming visit to SA after being crowned. She also dressed the top 10 Miss South Africa 2020 contestants in Cape Town last year and has even showcased her Nguni print collection in Paris and Milan. Her success keeps shining as she opened her second store at Midrand's Mall of Africa on February 1. Her first store is in KZN, her home province. The store boasts current custom Fabrosanz designs and is also introducing an FRS menswear collection. She tells us where it all began and shares her success tips.
Take us back to your childhood, what inspired your love for fashion?
I was surrounded by women who loved fashion and worked in the industry, they used to dress us up my cousin and me.
What propelled you to start your brand Fabrosanz and how did you manage to build your brand to what it is today? 
It started as a hobby. I then decided to go to a sewing school in downtown Joburg. All I wanted was to learn how to make my clothes. In 2010 during the world cup, I decided to make my soccer jersey- inspired dress as I didn't like wearing the soccer jersey but wanted something unique that will show support to my country. The dress had a South African flag badge and my name at the back in SA flag colours. After wearing it and posting on social media my friends and other women started ordering theirs. I then found another designer to help me with the production and my mom came from Durban to help as she also knew how to sew. Building the brand to where it is now, I was blessed to have amazing support from when we started. I think there was a gap in the market for a South African ready-to-wear brand. Our style was different.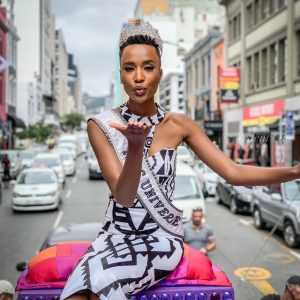 Why did you name your fashion brand Fabrosanz? 
FabroSanz stands for Fabulous, Royalty, Sanz – shortened version of my name. That's how I want our customers to feel when wearing our designs like they are fabulous and royal.
You have showcased your designs on international runways, such as the Milan and Paris Fashion Week, how did those opportunities come about? 
We were invited to showcase after the organisers saw our work on social media
One of your trademarks are Nguni prints, what inspired that? 
I have been working with African print for a while now. I wanted to create a print that celebrated where I came from. I am Zulu, which is part of the Nguni Tribe. As a Zulu tribe, we do not really have prints in fabric form that we can use to design clothes, we are known for our beadwork. The print was inspired by all the shapes you find in Nguni tribe beads, isicholo (Zulu hats), geometric shapes from Ndebele and (umbhaco) the lines from Xhosa.
You are also a stylist, who are some of your clients, and what sets you apart?
I work in wardrobe styling for movies, commercial as well as corporate styling.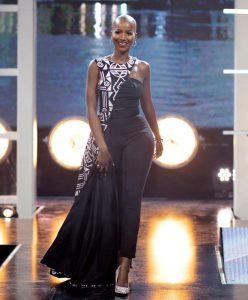 Describe your busiest day.
It starts with email catch up and then fabric shopping, to the production studio to check samples and discuss new styles. I now go to our new store at Mall of Africa almost every day.
You have opened your second store in Joburg, which is introducing a menswear collection, was demand a part of it and why did you choose Mall of Africa to set up shop?
Mall of Africa is a perfect mall to launch the brand in bigger retail space. We needed a place which would align with the brand's current and future vision. It's a perfect fit for the Nguni print. There is a demand for menswear, we just introduced new styles.
What have been the highlights of your career over the years?
Showcasing the Nguni Print in Paris and Milan.
And the challenges? 
It's always financial challenges for growing the brand to meet the demand
What is your definition of success and do you feel you have achieved it?
I have been able to build a strong brand successfully so far, but it's a journey. There is definitely more to be achieved.
For up-and-coming stylists and fashion designers what is the best business advice you can offer them and how can they build their clientele?
If you can find a mentor, do. Make sure you get someone to look after your books as soon as you start as you don't want to be in trouble with the taxman. Building clientele is through quality product and good service.
What are your success tips for young people? 
Work hard, pray and focus. The right people will find you. There are no handouts, you have to put in the work.
Visit the new House of FabroSanz store at Mall of Africa, shop number 1192 located on the lower level, entrance 11.
You can also shop online at www.houseoffabrosanz.com
Connect with Fabrosanz:
Instagram: @fabrosanz
Twitter: @FabroSanz
Facebook: FabroSanz Creations