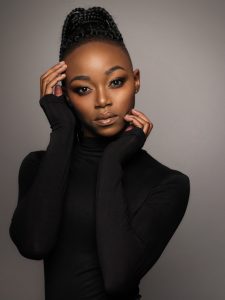 Previously crowned Miss Soweto 2017 and USN Face of Fitness 2019 winner, 27-year-old Busisiwe Mmotla shares why she wants to be the next Miss South Africa
Why do you want to be Miss South Africa and what do you think you will be able to bring to the role?
I want to be crowned Miss SA because the title will allow me to grow personally by engaging in more charity work in different communities in South Africa. Miss SA opens more doors to different resources and this will help my charity work because that was one of my most favourite things to do during my reign as Miss Soweto and after. I also want to be Miss SA because I would like to provide positive representation for the people of my community. When I won Miss Soweto in 2017, the young women in my community were overwhelmed with pride for me and the community itself as I was the first Miss Soweto from Emdeni.
How have you handled the lockdown due to the Covid 19?
It has given me time to perfect my personal passions and my work skills that could advance my career. I have put more effort in my wellness techniques and I have taken up listening to interesting teaching podcasts and videos to help me improve my techniques so I can become a better teacher.
 2020 has been a tough year globally. Do you see any positives in what has happened in the past months and weeks?
Some of the positives that I have noticed include how people have taken their health and hygiene seriously. The pandemic has forced many people to confront their usual practices and to re-evaluate them. Another positive I have seen is how humans are always willing to lend a helping hand especially to the underprivileged. Many people are stranded and hungry and celebrities and community leaders have stepped up by either sending donations to those that need or by providing shelter to those homeless and it has been heartwarming to see that side of humanity.
What do you love about South Africa?
I love that we have such a rich cultural diversity.
What is one thing you would like to change about South Africa?
I would love to change the current legislation around keeping women safe. SA has a very high crime rate and femicide is the most concerning and topical issue for me. Most people in positions of power have not really helped bring light to the situation because they have ignored women's appeals. The government needs to provide more tighter legislation, accompanied by the funding of programmes that help women build a support network to ensure victims are not isolated and made to feel helpless.
Who is a previous Miss South Africa who has inspired you and why?
Miss South Africa 2018, Tamaryn Green has inspired me immensely. Her #breakthestigma campaign taught me that it is okay to speak about your bad experiences because you never know who you might help.
What is your message to young girls and young women in South Africa?
To be proud and own their individual stories. Owning your story is important especially in this day and age when people want to control female narrative because it helps you seek inner power and urges you to be the best version of yourself. I was in a physically abusive relationship for a long time but I found the strength to get out by owning my power and telling myself I deserved better. Owning your story also gives you the right to tell the story how you want to tell it. So be proud and more will be inspired by you and your experiences.
If you won the Miss South Africa crown and was able to meet one person, who would it be and why?
Michelle Obama. She is a great representation of black excellence. Her influence transcends gender and race. She carried out her First Lady duties effortlessly and she was voted the most influential person in America – a first for a sitting First Lady. A lawyer in her own right, she is always graceful even when under pressure or trying situations. She is a fashion icon and an amazing mother.
What is the one thing people would be surprised to know about you?
I entered Miss Soweto three times. You'd think after two attempts one would give up but I went on to enter three times and the third time I won.
To vote for Busiswe, visit the link below:
Follow Busiswe on:
Facebook: busisiwe.mmotla
Instagram: busi_mmotla
Twitter: busi_mmotla
Source: Supplied
Images: Twitter, Miss SA Organisation