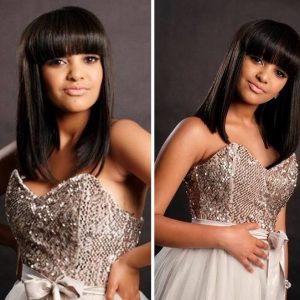 17-year-old, Season 13 Idols SA winner has gone down history books on 19 November 2017 as one of the youngest people to win the singing competition. She shares where it all started and her success tips to the youth
Congratulations on winning Idols SA. Why did you decide to be on the show this year?
My mom actually encouraged me to enter the competition this year and I also had a good feeling that this was going to be my year. I titled 2017 as my risk-taking year. I am glad I listened to my mom because entering the singing competition was a risk worth taking.
How did you discover that you were vocally talented and that you wanted to pursue music as a career?
I have always been reserved even though I come from a musical family. I was seven years old when I discovered I could also sing and I knew that this career was meant for me.
Why did you decide to enter the competition before completing matric?
To be honest my mother gave me a bit of a push and also, I wanted to take advantage of the fact that I was ready to audition this year before allowing fear to delay me from taking this path. Otherwise, I wouldn't have done it.
So where to from winning Idols SA?
I am going to work on my debut album beginning of 2018. I will be juggling music, completing school and building my brand. My main goal is to be an international star and I will be working towards that moving forward.
How do you define success, from your life experience?
Success means achieving even the smallest goals. If you put your mind to something and work towards achieving it that, for me is success.
How were you able to keep up emotionally, especially towards the end of the competition? I am asking for those who are contemplating on entering the competition next year
I think someone who wants to enter the competition has to know why they are doing it and let that be their motivation to keep going because it's really not easy. There were times where I missed home so much and wanted to leave but my reasons for entering Idols pushed me to work harder.
Who would you like to collaborate with locally and internationally?
Internationally, I would say Rihanna, mainly because she also started her career at a very young age and has become this global sensation. I would also love to work with Lauren Hill and Drake. Locally I would definitely like to work with Samthing Soweto because he is an amazing person and very humble. I would also like to work with Shekinah.
What is your advice to young people who want to successfully achieve their dreams?
I live by the saying that states that the future belongs to those who believe in the beauty of their dreams. Everybody dreams but it's up to you to make your dreams come true. You have to be passionate about what you do and work hard.
Connect with Paxton on
Instagram: @paxtonfielies_