Soweto-born singer Elo Zar takes us down memory lane to her childhood, what sparked her passion for music and her success tips to young people
Give us a glimpse of your childhood in Soweto, what attracted you to music?
I grew up in Moroka North, Soweto as a lonely last born of three. I didn't fit in with my family or anyone really. I had already gone through the bullying and abuse that wasn't spoken about in black families so I kept to myself and acted to comfort others so as to forget my own issues. My favourite thing to do was watching cartoons and making jokes to cheer myself up and I liked hanging around boys because they were not too dramatic, but that lasted till puberty, so not long enough. From there on, being an outcast and rebel made sense as long as I honoured my mother. I hated puberty. Music was my escape.
When did you know that you wanted to take music, as a career, seriously?
Come in Jam Alley. The kids I played with would always play Jam Alley as a game and I was always the contestant that won because I sang. I didn't believe their vote but I ran with it. Being an artist wasn't what the family considered a career path.
I was in the school and church youth choir and those were the only spaces I could express my pain and joy. I then decided on music for myself when I realised I was inspired by anyone I saw live on stage, whether church, school or TV. My first songwriting experience was in high school and that stayed in my heart. After getting my degree and working in the office, which I hated, I wanted to be an artist and was convinced to sing house music (but I wanted more), which wasn't too amazing an experience but it adds to my story.
I then went to a contemporary music school which was frustrating due to a lack of resources, so I went back to the office desk, working on music publishing at Universal. I had to listen to demos and watch people get signed. It was heart gutting and I would cry every morning before 9am trying to find consolation in the paycheque, once I gathered what I needed I quit.
Tell us about the genre of your music, and what and who influenced it? And how?
My genre is more a fusion of everything I was exposed to. Once I was educationally informed and experienced, the freedom in performing other genres and the idea of creating a unique sound having heard Vusi Nova perform rock and roll, I mean what more is there to do? At this point I was also performing Disco, Jazz, R&B and Indie rock.
Before leaving the UMP (universal music publishing) where I met the best industry specialist, Gavin Green, who opened my world of alternative music by introducing me to great local artists. I was Alice and the world of music was wonderful. From there it was a revolution. I didn't have to be another common artist, I could do things my way, create something new just like what kwaito did in the 90s. I am different and I can be different.
How did you become Vusi Nova's back-up singer, and what has the experience taught you about yourself and your craft?
I met Vusi at music school in Bramley and clearly he believed in me when I couldn't, even if it was just for back up. I'll always love him and I wish him so much more in life and wholeness. He gave me experience.
The experience taught me that my self-doubt and being conscious of that was useless and stifling. The more you perform the more natural you get and it's far more important to perform selflessly and not selfishly. Vusi is an amazing performer with so much grit and he can dance.
Who will relate more to you as an artist and to your music and why?
People who relate to me are creatives within different industries and of different life experiences. I reckon there are people looking for a nod to be themselves in an unconventional and unconfined form. So Elo Zar is the brand and product that represents the out-of-the-box description of any person, especially those within stereotypical settings. We're not rebels per se, we're just us and we think bigger than our settings.
Share with us some of the highlights you have experienced so far in music?
My highlights are:
• Performing alongside Bonang Matheba, with Gregory Maqoma's dance team for Anglo Platinum Fashion Awards Producer by Jan Malan.
• Selling out two live shows under my concert platform for alternative music Surreal So Real where we hosted Samthing Soweto, Ms Isis and Bongeziwe Mabandla.
• Performing at SXSW in Texas, USA.
• Performing at Basha Uhuru with the Black Jacks before Thandiswa Mazwai.
• My music being used in the new series Gomora by Seriti Films.
• Working with Kommanda Obbs.
• Being photographed by Victor Dlamini.
• Working with Chris Laco and having my band for more than four years (Levos, Jamie, Sbu, Dane (just left the band)).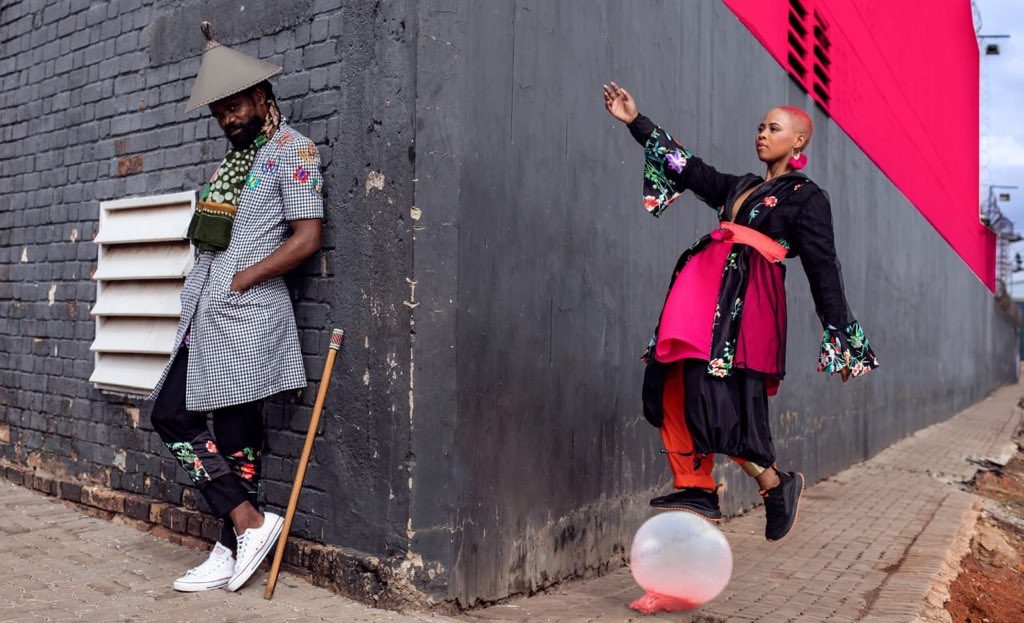 Tell us about your single, Bophelo, what inspired the lyrics?
Bophelo is a song I wrote in realising how tough our different journeys are and at that point I was going through so much. I also realised that there's a greater guide through all life's episodes and one must just surrender to the fact.
Who, locally and internationally, would you like to work with and why?
Locally: Muzi, Nonku Phiri (Producer).
Internationally: Wednesday Campanella, Pharrell Williams.
I generally would like to work with people who have a wide-open mind when it comes to creativity.
How do you define success?
Being comfortable in my own skin and having access to create wealth.
Apart from music, what keeps you busy?
I'm managing our family property portfolio, I'm working on our beverage business called IGemmer (which is a traditional ginger drink available in concentrate form for the sake of keeping our traditional drink convenient, tasty and easy to make) and I'm seeking out interior decor projects to work on.
Tell us why you have surrounded your brand around the colour pink?
I had struggled with my identity for a long time as a person and as a performing artist. Then I chose pink in order to establish an anchor from where to begin. So I began with redefining pink from all its associated descriptions, like weakness because it's feminine to a colour that represents strength because I am a woman and my strength encompasses everything, including tenderness, creativity, love, faith in humanity and rebellion against commonality.
What are your success tips to young people?
Fight to be and to stay different. There's no point in working to love yourself but, you're as common as the next person, teenage struggles must at least be worth something, and self-love is a journey, the sooner you start the better.
Listen to her song below and share in the comments what you think of it.
Connect with Elo Zar on: