Mandla N chats with KDanielles Media about his successful drama, Lockdown, where his passion for entertainment stems from and his success tips 
Never in his wildest dreams did producer and Actor Mandla Ngcongwane imagine that when he named his hugely successful drama Lockdown, it would one day come to this. And with South Africa being under lockdown in an effort to curb the spread of Covid-19, what better way can one spend it then to view season five of Lockdown, which aired on Mzansi Magic since April 6 at 20:00 CAT. Mandla N tells us where it all began:
Take us back to your childhood, what attracted you to the entertainment industry, and what made you consider a career in it?
I was a loud and bubbly kid, class clown, I went to a township school, and there were a lot of us in a class. In grade 9 I joined the drama team because I was loud and bubbly. I ended up going to AFDA and studied film and started acting and directing.
You have been in the entertainment industry for a long time, what have you learnt about it that you feel you wouldn't have known if you were in a different career field, and how have you managed to create longevity in your industry?
It's a lot of hard work, it takes passion and late nights to be number one. It's difficult to get a show commissioned as a producer, I put in my all. One show can go on for years like City Ses'la. I created City Ses'la when I was 19, I put in my entire budget so I that I could get the best first season. Always keep it fresh.
Tell us what sparked and inspired the idea to create Lockdown and what have been the highlights you have had in the last five seasons?
I'm from the township. Back in the day, when I was growing up in Soweto, most people were going to prison. When Yizo Yizo came I was like wow this is the best thing on TV. Then Orange is the new Black came. I was also hooked on a show called Prisoner cell block H and I thought I could recreate something like that. Watching how broken women hold their own.
Highlights: actors going in blind and for them to completely trust me, I was working with legends who trusted me, who didn't know this world that I was introducing them to but were open to my ideas. They are authentic. I also worked with ex-cons for ideas. Another highlight was the response after the first episode, very humbling, people were ecstatic when we brought in Pamela Nomvete and Linda Sebezo, and award-winning American actress Tichina Arnold from Everybody hates Chris. Nthati Moshesh was another big highlight, she knocked it out the park as well.
Why do you think people relate to or love watching the show? What is your main message to the audience through the show?
It's believable, it moves them emotionally. People love the surprises and cliff hangers in every episode, the attention to detail we put in, how authentic the world is, my main and supporting cast are authentic, some of my supporting cast are ex-cons. Nothing can trump craft or talent.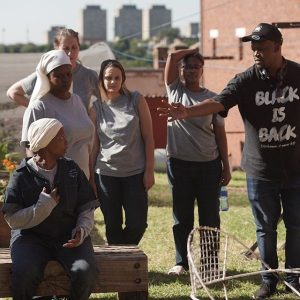 Describe to us what goes on behind the scenes of making the show, from the time you start production to the final editing.
If show performs well from the onset, I start planning the next season and the next big thing, the next surprise, which actors I will bring in. I think of getting the audiences heart strings pulled, I screen the new actors, I make sure they are the right individual. I go on set and introduce the new storyline, which themes need special attention. I work very closely with my DOP. Then I shoot during the day, 6 to 6 and edit at night with my editor while everything is still fresh.
How would you define success and do you feel you have reached it?
I'm in the process of gaining success. I'm running a business, my kids are studying, once my kids are done studying and done with university I would have achieved success. I can create content that can appeal to the market, my content is now conscious and moves people. I've just finished a blockbuster in nine days now, I'm editing that. I push myself every day and every year. I'm not waiting for a Hollywood budget. I'm in the journey of being successful.
Do you believe in mentorship for one to be successful? If so, who played a crucial role in the success of your career and what career advice did you receive that you still apply today?
Mentorship is a big thing. If you can do it go for it. You must learn from people who have done it before you. My late mom believed in me, you need someone to believe in you, to drive you, my mom was my cheerleader, she was proud of my work and celebrated my success. Today, I celebrate great scenes with my actors, that builds their confidence in acting out their role, it will build anyone up to nail their character. Someone must believe in your skill and celebrate your hard work and craft.
How was the transition from acting in comedy (which you were known for) to directing a drama like Lockdown, did you have any doubts in the beginning and how did you overcome the challenges you faced?
I've always been a director. I studied directing, but my entry point in the industry was acting. I acted but at heart I'm a director. The industry was not ready to give me a chance when I was younger, I pitched my drama to a lot of people, until Mzansi Magic took a chance on me. Don't be shy, from the beginning tell yourself you can do it all. Plan and divide your time and don't restrict yourself.
What is the one thing you would like to be remembered for?
My stories, my craft, my passion, I give my all, I work hard, my peers have recognised me and I'm thankful for that.
What are your success tips to young people?
People work with people they like and respect, be nice, be human, be decent towards others. The more you learn you'll realise how little you know, when you are relaxing someone else is working hard. No one remembers number two so always strive to be number one. Passion – passion should be the reason that wakes you up and gets you going, do something you love.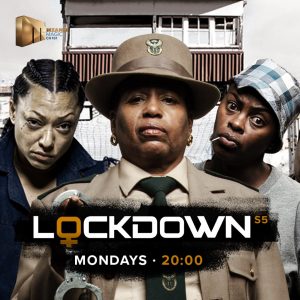 Catch Lockdown season five tonight (Mondays) on Mzansi Magic at 20:00 pm CAT.
Connect with Mandla N on: