Interior Designer and Founder of Noli Interiors, Bonolo Moloi shares her tips on how to turn your home into a spacious haven
Living lavishing doesn't have to be a costly dream. You can transform what you have into something close to what to your long-term dream home. So roll up your sleeves and use Moloi's tips to make your home spacious:
Light – Take advantage of your window sheers to allow natural light in your home and consider investing in spot lights and lamps. A light filled room will naturally appear larger. By opening up the windows, you will connect the room to the outdoors, further creating the feeling of a bigger space.
 Get rid of clutter– An untidy room looks like half the size. With many things drawing your attention and less space to move around the room will feel crowded. You do not need all those things in your home!
Use a mirror to reflect light and open up the space – Using a sizable mirror can make a room appear double its actual size.
Furniture with legs– Keep furniture off the floor and avoid sofas and armchairs with skirts. By choosing furniture on legs, light can circulate freely underneath, opening up the feeling of space around it.
Space planning- Place large items against the wall and never let furniture block walkways. By placing your furniture around the edges of a room, it opens up the centre and enables you to move around freely creating the illusion of more space.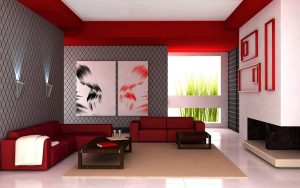 Multi- Purpose Furniture – The less furniture you have, the more spacious your room will be. Look for pieces with multiple purposes.
 Paint the walls in softer or lighter colours– Dark colours absorb light, whereas pale shades reflect it, creating the illusion that the room is bigger than it is.
Featured image source: Festoon House Outdoor Lighting
What other tricks do you use to make your apartment bigger? Share in the comments below.