Africa's renowned entrepreneurs fly down to South Africa to address issues affecting business people from all walks of life.
Today more than ever, small and medium-sized enterprises increasingly feel the need to open up themselves to the world to look for new business opportunities. It is in the same light that the Tropics Business Summit positions itself as a premier platform and a partner of choice to walk alongside emerging entrepreneurs in their search for new markets, investors and partners.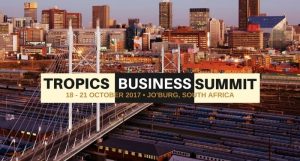 The 1st annual " Tropics Business Summit : Summit on African Trade & Investment Opportunities ", set to take place from the 18th to the 21st October 2017 in Johannesburg (South Africa), aims to bring more than 150 global business leaders, young innovators, political figures and economic decision-makers to "Find Synergies & Build Africa's Economic Gateways" . The Summit will provide to companies, entrepreneurs, projects holders, investors, funding institutions, and other public or private stakeholders, various platforms to explore tangible investments opportunities, funding possibilities and economic partnerships on the African Continent. Through activities, such as the Investments and Funding Market (IFM) or B2B exchanges, foreign delegations will be offered interactive spaces to promote their national investments opportunities to potential investors and funders.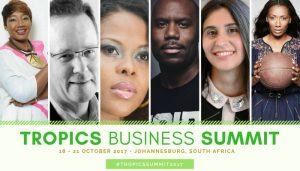 Although the focus for this inaugural edition will be directed on 5 key-sectors, namely Infrastructures Development, Agriculture/Agro-processing, Renewable Energies and New Technologies; other leading industries will possibly be explored. Entrepreneurs from across the continent and the world have expressed their desire to join the ecosystem of South African start-ups, which is considered one of the most attractive in the world. As a melting-pot of unexplored cultures and talents, Johannesburg remains an unavoidable destination in terms of entrepreneurship, technology, and innovation because the country simultaneously manages two distinct economies: a developed economy on one hand and, a developing one on the other. Parts of the proceeds from tickets sold will go towards two important causes: the forever changed Global Breast Cancer Awareness Campaign launched by Addi Lang, and The Makeba Centre For Girls, founded by Dr. Miriam Makeba, which provides a home for destitute and abused girls between the ages 11-18 years.
For more information visit http://summit.tropicsmag.com
Connect with Tropics Summit on:
Twitter: @TropicsMagazine or follow their hashtags #TropicsBusinessSummit2017 and #TropicsGala
Source: Supplied