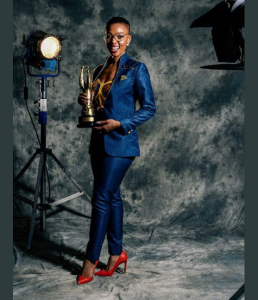 Renowned television and radio presenter shares her passion for her craft, her new gig as the host of Presenter Search on 3, as well as her success tips
Recently scooping a 2018 SAFTA Award for Best Talk Show host, the 34-year-old presenter isn't slowing down anytime soon as she recently bagged an opportunity to host the Presenter Search on 3 reality show that will air on SABC 3 from May 2018.
Pabi's illustrious career, which began at the age of 11, has seen her before international audiences, a myriad of prolific movie and music stars as well as in in-depth reality shows, which include Strictly Come Dancing, The Amazing Date, and Trending SA. Pabi has also had extensive experience as a radio presenter hosting shows on stations such as YFM and 947 and is currently presenting POWER Breakfast on talk-station Power FM where she continues to challenge the norm and provide her audiences with insight, inspiration, and knowledge. She opens up to us about her successful career:
How did you discover your passion for entertainment, especially presenting?
I started my career at a really young age and I have always loved every aspect of the industry. It's not all glitz and glamour but I am passionate about every aspect of it.
Who and what do you credit your success to?
I honestly don't even ruminate over it. I am ever curious and engaged in what is happening in the world. I also make sure I do projects I really like so it is always an authentic self I bring to the screen or speaker.
How do you define success and have you reached it?
Success is when you feel proud of what you've accomplished and I am definitely proud of my career so far.
What qualities do you think will make the presenter-hopefuls stand out and win this competition?
Personality! If an audience feels in some way connected to you they will keep watching. I also believe some people have a certain innate intangible magic. To be honest, I am thrilled at the chance to witness dreams coming true through this show. It's amazing how many people desire the simple opportunity to step under the lights and shine bright. SABC 3 is opening the industry and I'm honoured to be a part of this journey."
What are your success tips to young people who are hustling to break into any career field they are passionate about?
Just go for it! We are not given dreams or goals that are far off from our gifts. Take that spark within you and come shine!
Auditions are taking place in:
Durban on Saturday the 14th and Sunday the 15th of April at the Durban Exhibition Centre.
Johannesburg on Friday the 20th, Saturday the 21st and Sunday the 22nd of April at Wanderers Cricket Stadium.
To enter, simply arrive at the audition venues on the date of the audition and fill out an entry form, which you will get at the registration desk. Visit www.presentersearchon3.com for more details and keep an eye on the official Presenter Search on 3 Facebook, Twitter and Instagram pages for exciting new content and tips from previous winners.
Catch Pabi on Trending SA, every Monday and Tuesday at 21:30 PM on SABC 3.
Connect with her on:
Facebook: https://www.facebook.com/PabiMoloiOfficial/
Instagram: @pabimoloi
Twitter: @PabiMoloi