The fifth installment of the annual Fabulous Woman Awards is back and it promises more exciting and inspirational award categories that celebrate every facet of a woman's role in society.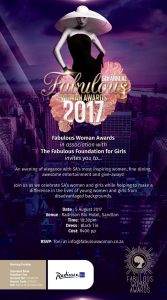 Launched in 2013 by the award-winning author, businesswoman, and philanthropist, Pontsho Manzi, the Fabulous Woman Awards are an annual event hosted by the Fabulous Girls Foundation. The foundation aims to uplift and empower young South African women through educational initiatives and exposure to various careers of their choice. The Foundation also aspires to inspire young people, particularly from disadvantaged backgrounds to dream beyond their current circumstances and to continue to upload their integrity to get ahead in life. Pontsho Manzi says that the awards aim to recognise and celebrate the foundational principles of ethical womanhood, especially in raising young girls into confident, educated, successful and virtuous women. She adds, "These are the first awards in South Africa that recognise both girls and women in an effort to encourage the spirit of sisterhood and cross-generational unity for all women of South Africa."
The event, which is taking place during women's month, will begin with a gala dinner and then proceed to award outstanding women and girls in South Africa who have shown remarkable resilience in following their dreams. The awards are divided into the following categories:
Humanitarian Award
Integrity Award
Resilience Award
Pull Her Up (Sisterhood) Award
Woman of the Soil Award
Fabulous Woman of the Year
Fabulous Girl of the Year
Fabulous Girl for resilience
Fabulous Woman Hall of Fame
These categories honour top businesswomen, community builders and outstanding young girls in Gauteng. The Fabulous Woman Hall of Fame will be awarded to renowned women who have achieved sterling success in business and in mentoring young women. "Our past Hall of Fame award recipients include prominent women, such as top South African businesswoman Wendy Luhabe and Africa's singing sensation, Yvonne Chaka. This year's elegant event promises to be a night to remember for these young women who will rub shoulders with a number of inspirational women celebrities and community leaders who are passionate about women empowerment and are mentors or role models to many South African girls. The Fabulous Woman Awards will take place on the 5th of August 2017 at the Radisson Blu Sandton Hotel.
About The Fabulous Girls Foundation:
The Fabulous Girls Foundation conducts schools outreach workshops in townships around the country and organises boot camps for Maths and Science extra lessons. The foundation offers entrepreneurship training, as well as confidence building and career guidance workshops. The main purpose of the Fabulous Girls Foundation is to educate and groom young women to contribute positively to society. In doing so, the young women are exposed to companies, senior female executives/managers and businesswomen who may provide deserving students with mentorship opportunities and/or bursaries to further their studies in their chosen careers. Winners of the categories of the Fabulous Woman Foundation are selected from girls who have attended the foundation's workshops and boot camps as well as schools that the Fabulous Girls Foundation has adopted as patrons.
Nominations for the Fabulous Woman Awards are now open. For more information, nominations, sponsorship or corporate table bookings, email Toni on info@fabulouswoman.co.za
Twitter: @FabWomanAwards