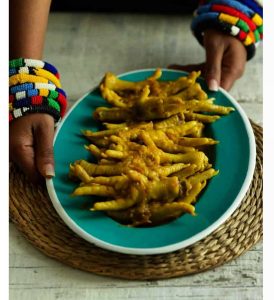 Recently, we did a giveaway of the Lazy Makoti's Guide To The Kitchen book. In the competition, we asked our followers what their favourite South African meal is, this is what they had to say
Bonolo Selesho (winner): My favourite dish is definitely ledombolo and beef stew because that's a meal that tastes like home.
Miranda Lekitima: Mine is mala mogodu with dombolo and spicy chicken feet!
Zama Xobiso: UMgqusho (Samp and Beans) served with a beef stew is definitely my favourite because it tastes good and is actually nutritious.
Tracey-Lee Butler: pap en wors with chakalaka!
Sumaya Abraham: Wow. I am going to go with an all favourite a braai (braaied meat with pap and chakalaka).
Nikiwe Dlamini:  Isgwaqane (savoury bean pap) with tripe. Growing up it was one of the meals my mother used to make for us and I loved how delicious it tasted.It's now a cherish memory and meal of how far we have come.
Ashlynne Flowers (winner): My favorite South African dish is pap with chakalaka. Since I've moved to Johannesburg I've been exposed to different cultural foods and I'm grateful for that.
Thandi M: Pap and morogo (spinach) always reminds me of home, family and the traditional celebrations.
Boitshoko Chocky: pap and mogodu my mom knows how to make a perfect mogodu and that's how I got to love the dish.
Yolisa Qunta: Samp and beans is such a comfort food and can be made so many different ways.
Here's her Umngqusho with lamb neck potjie recipe *Samp and beans*
2  cups samp
2  cups sugar  beans
1  onion
2  potatoes
1  large tomato
salt, to taste
1 beef stock cube
2 -3  teaspoons curry powder
Soak samp and beans overnight
Mix and wash the samp and beans together.
Put them in a large pot with 5-6 cups water and cook samp and beans until they start becoming soft. Check on it every 30 minutes or so to see if the samp and beans need more water
Once the samp and beans are slightly soft,  drain some of the water if there is more than a few cups of water still cooking with it and add the rest of the ingredients (the vegetables, oil, salt, spices and seasonings). Cook the remainder of time it takes until the beans are very soft (usually 20-30 minutes more). *Lamb neck potjie*
120 g  flour
1  Tablespoon  paprika
sea salt and freshly ground black pepper, to taste
1   kg lamb neck
2 T canola oil
1   onion, thinly sliced
2   garlic cloves, finely grated or crushed
4  leeks, washed and finely chopped
1 can chopped tomatoes can
4  beef stock, or enough to cover
6   baby carrots, halved lengthways
Mix the flour with the spices and toss the lamb neck in the spice mixture. Heat the oil in a large potjie on hot coals. Brown the meat all over, ensuring the coals do not touch the bottom of the potjie.
Add the garlic and leeks and cook for 5 minutes.
Add the tomatoes, stir and cook for 5 minutes. Add the beef stock and bring to the boil.
Simmer for 50 minutes, or until soft and cooked through. Add the carrots and cook for a further 5 minutes.
Get The Lazy Makoti's Guide To The Kitchen at leading bookstores.