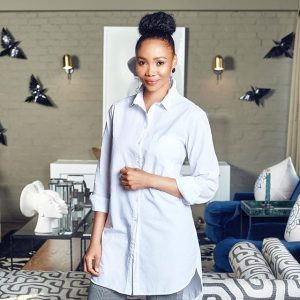 41-year-old media personality, MC, and entrepreneur, Azania Mosaka shares how she's created longevity in her career as well as her success tips.
If Azania Mosaka is not behind the mic on radio 072 and on Real Talk, you'll probably find he MCing or behind the scenes of her successful make-up range Ms London Cosmetics and salons Miss Salon London. Azania has done it all when it comes to media, from hosting to producing shows and it seems she's not slowing down her hustle anytime soon. She makes time from her very busy schedule to share with KDanielles Media what success means to her, how she's reached it as well as her tips to young people
Give us a glimpse into your childhood, what sparked your interest in media?
My interest in media sparked in an organic way and have always loved consuming what was said or shown on radio and television. I always observed, with a critical eye, what I would watch and listen to. Those mediums were a source of information and entertainment, and since my mother was a single mother we always had radio or TV as our 'babysitter' when she was at work. But my career aspirations when I was young was to be an economist and work with Trevor Manuel (who I had a huge crush on). Things took a turn when I had accompanied a friend of mine to an agency, which also advised I audition to be with them. And as they say, the rest is history. I have since done adverts, and two seasons of a youth talk show called The Joint, during the dawn of democracy after 1994. That's how my career in media started.
Describe your busiest day
Not all days are the same, as a freelancer I worry when I don't do something with my time because it means there will be no revenue for me. My days usually involved getting my son ready for school in the morning, do a bit of work and sort out orders at my salons and cosmetic businesses as we also supply to Woolworths. I then do my afternoon show on Radio 702, get ready for my new show, Real Talk on 3, and sometimes MC at corporates. My days can end very late, but I am content with what I do.
What is the best career advice you received that you still apply to your career?
That you should learn your craft thoroughly. I know what it entails to be a host, as well as to produce a show. You have to learn how to plan, negotiate budget and take an interest in every facet of your industry. I also learned that your voice matters and that you have to be authentic at all times. Don't discredit who you are and the role you contribute to the society. Once you know that then it's easier to tap into your purpose.
How would you define success and do you feel you have reached it?
When I was younger I used to associate success with having a lot of money and living a luxurious lifestyle. As I grew older I realised that success is deeper than that. Success is when you are content with your overall wellbeing and feel strong, safe and secure. I acknowledge that I am privileged when it comes to my career but I had to work very hard to be where I am. I have learned that what matters the most is maintaining a good relationship with people around you, especially your loved ones. At the end of the day material things don't generate happiness, take it from me, I have been there.
What are your success tips to young people?
Always stay true to yourself, hone your skills and don't try to be a jack of all trades. Also, respect other people's craft and stay In your lane.
Catch Azania Mosaka on radio 702 between 13:00 pm-15: 00 pm and on Real Talk on SABC 3 at 18:00 pm
Connect with her on:
Instagram: @azania
Twitter: @Azania_