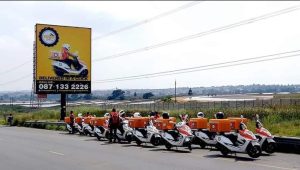 Boitumelo Monareng has taken the delivery business in the townships by storm. He shares how Swypa began, why mentorship is important and his success tips
Take us back to your childhood career or business aspirations, what were they and what inspired them?
Growing up, I wanted to study aeronautical engineering and like most in the township, I played soccer. I studied computer programming after matric and did a lot of odd jobs, mostly in the banking sector before I went to business full time in 2011.
Share with us your previous business venture before your current business. How did it prepare you for Swypa?
In 2009, I got a chance to learn how to run a business through a mentorship programme I got from a businessman from Thembisa, Fulton Ramaphakela from Moloko Group Holdings. I then opened a media company in 2019 that saw me publish three community newspapers (Thembisa News, Clayville Express and Daveyton Express) as well as outdoor advertising using mobile advertising trailers in Soweto, Katlehong, Thembisa and Daveyton. From there on, we branched to Swypa Bread, a monthly bread subscription business that delivered bread door to door daily to more than 400 households before we introduced Swypa Delivery in 2019.
What inspired Swypa Delivery and what's the inspiration behind the meaning of the name?
The township market is a huge market in terms of business and a lot of big cooperates don't really understand the market or how to go about penetrating the market because it has a lot of informal traders. That's where we saw an opportunity to come in and offer a service that can give informal traders a competitive advantage to national franchises, as well as access to market of the entire township landscape, which has a potential for them to increase their revenue as well as grow their businesses.
Take us through the step-by-step process of bringing your business idea to fruition, from the capital you needed to branding and bringing it to the market?
To start Swypa, we needed to buy delivery bikes and at the time, I had no money so I had to ask my siblings for us to sell our grandparents' house and bought four bikes with my share but because we wanted our presence to be felt, everything had to be professional from how our bikes looked in terms of branding and colours to how we communicated with customers. As much as we started from a garage, we made sure to bring in experience in the call centre to make sure we offered a premium service in the township by bringing my partner with 12 years' client relation experience in banking to handle the call centre. From day one, Swypa was different inside and outside with our distinctive orange branding. Then, we used Facebook to push this never-seen-before idea in the township and people were eager to use our services to a point that our system crashed on day one because we couldn't handle all the orders that were coming through it.
Your business has been around since 2019, share how you grew it to new heights in Thembisa and in Soweto, which now has 58 stores you work with
The business grew at a rapid pace that saw demand from other townships and it was at this stage that we needed a partner to help us grow to other townships and upgrade our systems, and MultiChoice Innovation Fund came in as a lifeline we needed to help grow the business to the country's number one township, Soweto, where almost every business wanted to utilise our service and that gave us the confidence to go all out.
What are your long-term goals for the business?
We are now in a process to raise capital that will see Swypa nationally and some parts of the SADC region with similar township landscape as SA. Thanks to the MultiChoice Accelerater programme, Swypa was exposed to a pool of international investors.
How big is your team?
We have 46 employees in Thembisa and Soweto.
Describe your busiest day
Month-end, we are busy because most of our orders come from the fast food space and because of high volume and long queues, some restaurants take longer to prepare, which means longer waiting periods for collection from our drivers to a point where we can't accommodate all orders on certain days when it's too busy, especially on Fridays and Saturdays.
What is your definition of success?
Success to me is seeing Swypa as a multinational company that tackles problems faced by businesses in the townships and offering inclusive solutions that grow businesses in the township landscape.
Do you have a mentor, and what is your view on the role of mentors in one's career or business success?
I was fortunate to enough to get some mentorship from a businessman from Thembisa Fulton Ramaphakela, who let me in at his company and showed me the day-to-day running of a company. Being part of the MultiChoice Accelerator programme has also helped in terms of how I look at the business world, and being able to apply those teachings in my own company is a blessing to me.
To answer your question, yes, we all need to surround ourselves with the right people to help with our journey. If you want to be in business, surround yourself with business people, if you want to be a professional, surround yourself with professionals who have walked the journey, it helps.
What are your success tips for young people?
My tip is to be patient. Swypa is still in its infant stages and what has kept me going is my patience. Business is a long journey and if you don't have patience, you won't survive.
Connect with Swypa on Facebook