Pretoria-based Refentse Motsepe shares why she pursued a business in fashion designing, as well as her success tips to young people
Growing up what were your career aspirations?
Like many kids, I wanted to be a doctor because that is what most of our parents dreamed for us. But I have always been artsy and creative and always made most of the things that I have. When I went to Pro Arte High School in Pretoria I used to draw clothes, which a lady who makes clothes would sew them. My aunt then taught me how to sew with a machine and I would cut my own patterns until I perfected it. The first thing I taught myself was how to make beaded clothes.
Share life after high school
In 2003 I furthered my studies in Business Management because I knew I wanted to start my own business. I then went to a fashion school, which I only attended for a year. I then started my own business as a fashion designer at home. My home became smaller and had to find an office space. I moved to a business center in Pretoria called Busi-Col until they sold the place in 2016. I then had to move back home to work there.
How did you reach your customers?
I was part of Love Local, which looks after small businesses. This was how I was selected to sell my clothes at a pop-up store in Menlyn until 2017. When I started I relied a lot on Facebook to promote my business and that boosted my business a lot. Then word of mouth was my biggest tool. Currently, Instagram is one of my biggest platforms to promote my work.
Tell the story behind the name of your fashion label?
Artistic Gusto is my brand name. Gusto is an Italian word for enjoyment. I want people to enjoy the art they see in the clothes that I make.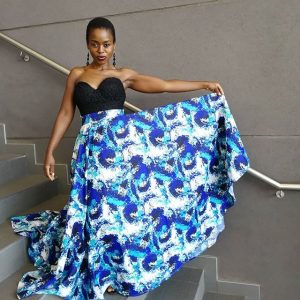 What were some of the challenges you experienced as a designer?
The first challenges I had was overbooking my orders, which made me work overtime. I had many sleepless nights but I feel it's not worth it because your health comes first. The other challenge I have is the winter season. That's when I make ready to wear clothes.
In this saturated field what sets you apart?
I am a perfectionist when it comes to my work. I don't compromise on my work, the materials I use and managing my time to meet deadlines.
How many people do you have on your team and how is your leadership style?
I obviously started solo, then as time went my team grew to six. I had challenges of managing different teams, from someone who was always absent at work to a relative worker who would take advantage of her opportunities. I now have three full-time workers and 1 part-time worker. As a perfectionist I ensure my workers work in a specific way, but I am open minded to suggestions.
As a designer how would you describe your designs?
I don't limit myself to a certain kind of work. I love exploring and being creative with the clothes I make. This is why I barely do mass production or work uniforms.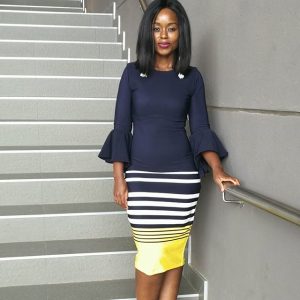 Who is your target market?
Middle-class people. I like dressing anyone as I like challenging myself. There are certain celebrities I have dressed as well.
Share some of your highlights as a fashion designer?
Soweto Fashion Week and Las Vegas Fashion Week, which took place in 2014, are some of my highlights. That earned me a number of international clients.
How would you define success?
Success for me is being content with your life, having a good relationship with God, having a good, healthy business and being very happy. If I am to add a personal touch to my definition, raising my daughter to become a great woman will be success to me.
Are there quotes that you live by?
Yes, I love the saying, 'A man is what he thinks,' meaning you are limited by what you think you can achieve in life!
What are your success tips to young people?
Dream it and make it happen. To me, this means God speaks to each of us through our thoughts and experiences. As much as you pray for the vision you have, you have to work hard make it happen. Somehow, even with the challenges you come across, things eventually work out, if you don't give up. Everything, especially the big businesses or people you admire started small. There's no way you won't reach your goals if you consistently work hard for them.
Connect with Refentse on: