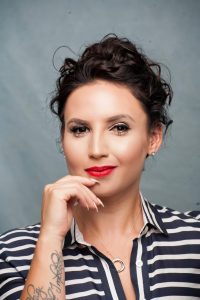 34-year-old presenter and comedian Nina Hastie shares how she rose up to her  successful career as well as her success tips to young people
How did you discover your passion for the entertainment industry, especially comedy?
I stumbled upon my love of comedy by chance because I have always had a sense of humour. But growing up in a family run restaurant, I always used to entertain people who came to my grandfather's restaurant. That's where my love for entertainment developed and grew.
You made history by being the youngest radio presenter in SA, how did that opportunity come about?
I heard about the auditions for a community radio station called Radio Rippel, and I took the chance. I think being good with people landed me that job.
What inspires the material you put together for your comedy and recent column on W24?
I think my life, in general, is one source of inspiration. I am very adventurous and fearless, I mean I worked for a circus before. As for W24.com, I used to be a comic columnist for The Times Newspaper and Grazia magazine before it closed down. The previous editor of Grazia is now at W24.com and asked me to be part of their team.
Who and what do you credit your career success to?
I credit my success to my hard work. I have given my all to everything I do.
Describe your busiest day
Even though I no longer do the breakfast show my body is used to getting up early. I then work on certain projects from writing sessions to being a guest on other radio or television shows on other shows. And on Mondays and Tuesdays, I shoot Trending SA on SABC 3. I usually get home after 12:00 am. And every day is my busiest day.
What are some of the challenges and milestones you have experienced in your career?
I guess I have been my own worst enemy in that it's easy to get caught up in the negative hype. And as a person who has suffered anxiety and depression, I was not in a good space. I think that people go through problems and it's only when you take accountability for what's going on in your life that things look up. That's what happened in my life. The highlights are being sober for 4 and a half years, I am an example of someone who has had nothing to everything and my relationship with my family is now amazing. What more could a girl ask for?
Who is your role model and which comedian, local or international would you like to work with?
I look up to Elle De Generes, who did stand up for thirty years before she got her big break. I would also like to work with up and coming comedians who haven't had their big breaks yet.
What do you love about presenting SABC 3's Trending SA show?
I love the team I work with, the fact that it's a live show and that our audience engages with us. I honestly don't feel like the show is my job.
What other career goals would you like to tick off one day?
I would like to write a book and do a one-woman show in South Africa and Africa to talk about my life.
How do you unwind?
I love hiking or surfing. Actually, I love being outdoors.
What are your success tips to young people trying to break into the entertainment industry or other industries they are passionate about?
My advice is that your first, second or third no doesn't mean you have to give up. It took me 20 years of nos to get to where I am today. Importantly, never resent other people's success because your turn is also coming.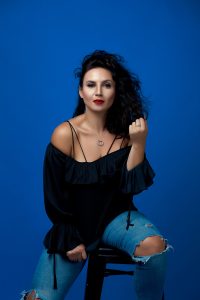 Join Nina Hastie LIVE at The Goliath Comedy Club on 21 February 2018!
 Multi-talented actor, writer, radio, television and comedic personality, Nina Hastie, is set to perform her first solo comedy special next Wednesday, 21 February 2018 at The Goliath Comedy Club in Melrose Arch, Johannesburg. Don't miss out on what is expected to be a sold-out event. Doors open at 19:30 and the show starts at 20:00. Tickets are R150 and can be purchased online here: http://goliathandgoliath.com/site/
Connect with Nina on:
Instagram: @thatninahastie
Twitter: @THATninahastie