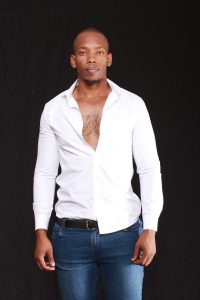 27-year-old businessman, motivational speaker and MC, Vuki Dlamini shares how he helps others see a better version of themselves and his success tips.
Popularly known as The King Kong of Public Speaking and #MotivationalBae, Vuki Dlamini gained immense popularity for his speech delivery at Cassper Nyovest's Fill Up FNB Stadium concert, and the creative script writing for the God's Must Be Crazy parody video clip, which formed part of Nyovest's concert. We get to know more about him:
Tell us briefly about your childhood, what were your career aspirations growing up?
 Growing up I was quite the vocalist. I was so certain that I'd grow up to be the next Craig David (he was so huge at the time). As a matter of fact, in high school, I used to sing to girls for anything from R1 to copying homework. I had never thought of being anything else.  Puberty, however, had other plans for me. I broke out late and was with a baritone that I didn't know what to do with. Try singing Maxwell's "This Woman's work" with a deep voice – not gonna happen.
 How did the collaboration with Cassper Nyovest for his fill up The Dome and Fill up FNB stadium come about?
 After hearing Cassper's announcement to attempt the mammoth task of filling up the dome, I was so proud and inspired that I wrote a poetic praise piece and recorded it to post on social media in celebration of the man. A few days later I received texts from two of the guys in his team, saying that Cassper just watched the clip and would love for me to recite it at the concert. The rest is history.
Two years later, I received a call from Spike saying that Cassper would like me to perform again at the Fill Up FNB Stadium concert. I ended up not only performing at the show, but also writing and performing the radio and TV ads, Khoisan spoof, and pre-show poetic piece. My writing and voice-over ability was well flexed.
READ MORE Cassper Nyovest Is About To Fill Up FNB Stadium
Tell us about your company, First Five Projects, what inspired you to start it and what is the story behind the name of the company?
First Five Projects (Pty) Ltd is an organisational development and people management company with the mission of making employees of service driven organisations the best possible versions of themselves that they can be, for the greater good of the organisation. This is done through development workshops/training, team building, performance management, soft skills training and staff motivation activations.
I saw a need for creating a motivated staff and a staff that is well competent in the way of customer experience and satisfaction. The name First Five (V = Roman numeral 5), comes from me being the first born child of two children whose names both start with the letter V, hence First FIVE.
 How many people are on your team and what is your leadership style?
 Currently, it is just myself. I do hire Co-facilitators when need be. Inclusive leadership is me. When people feel that they are a valued contributor, they take responsibility and ownership of their contributions and perform them to the best of their ability.
Share with us some of your career challenges and milestones?
Sometimes, being young, organisations question your ability and experience, so one goes through a lot of rejection and the conducting of free sessions on a trial basis. It also gets exhausting and demotivating trying to introduce a new model to old, "if it ain't broke" types. Ignorance has also been very costly. It has all really been on the job training. My greatest milestone has been working with Multichoice contact Centre staff, which has gone on to win the global contact Centre of the year award.
I also Founded a youth development organization by the name of Project LEAD which has seen my learners achieve a 100% pass rate since it's inception in 2015, some archiving distinctions and bursaries. Being part of the Fill Up movement has been pretty darn amazing too.
What is the best career advice you have received that you still apply?
"You never change things by fighting the existing reality. To change something, build a new model that makes the existing model obsolete" by Buckminster Fuller. Sure I read it as a quote on social media, but those words have given me an "I'll show you why me" mentality.
How do you define success and have you reached it?
Success is the achievement that gives you the most fulfillment, value, and happiness. It also attaining goals that you had set out for yourself. I'm almost there.
As a motivational speaker, who do you look up to and what words of affirmation do you personally live by?
 I have to say, Eric Thomas. His powerful content and delivery style is what got me started. I remember thinking "I want to make people feel the way you've just made me feel", the first time I heard him speak. "I am the best". If I can't convince my subconscious of that, then I can't make it my reality.
Apart from your work, what else do you love doing?
Gym. Well, I can't say I enjoy the process of the workout, but I'm definitely enjoying the results. I also love spending time with my family.
What are your success tips to young people who are trying to break into various industries they are passionate about?
 Be very intentional about your success. Constantly strive to be the best at your craft. Get to a point where you understand that being passionate is no longer enough – your colleagues and competitors are also passionate. Get obsessed.
Check out his Fill Up FNB speech:
Connect with Vuki on:
Facebook: https://www.facebook.com/vukidlaminimotivation/
Instagram: @vukidlamini
Twitter: @VukiDlamini