From selling chickens to making dolls, business woman Tilana van Vuuren knows a thing or two about running a business. She tells us more about her daughter being the inspiration behind her brand and her success tips for young people
Take us back to your childhood. What were your career or entrepreneurial aspirations?
Haha! When I turned 13 years old, my mom and dad bought me 21 chickens and told me that they would never be able to give me pocket money but that the chickens would be able to give me pocket money if I raised them correctly. The entrepreneurship bug bit me hard! I left high school in Grade Nine to join an FET college, studied business management and I now hold a postgraduate majoring in entrepreneurship and project management. From selling eggs to Honey jewellery to running a boarding house with 15 kids and offering transcription services to companies, I believed in learning everything about everything.
You have a handmade doll range with your daughter called Love Mina. What inspired this move and who is your target market?
My beautiful daughter Liyana is my biggest inspiration. She is a mixed-race child entering a very harsh world. I wanted to help create a world where she could find herself represented and loved for who she is, for her to have her own platform to share who she is when she is ready and not have to wait to be recognised by brands but rather create a brand of her own. As little as she is, she has a big presence!
A doll is any little girl's first reference for body image, hair and figure.  I couldn't find a doll that she would be able to relate to. What I found were dolls made of plastic, made in another country and not what I wished for her to refer to as her "first doll".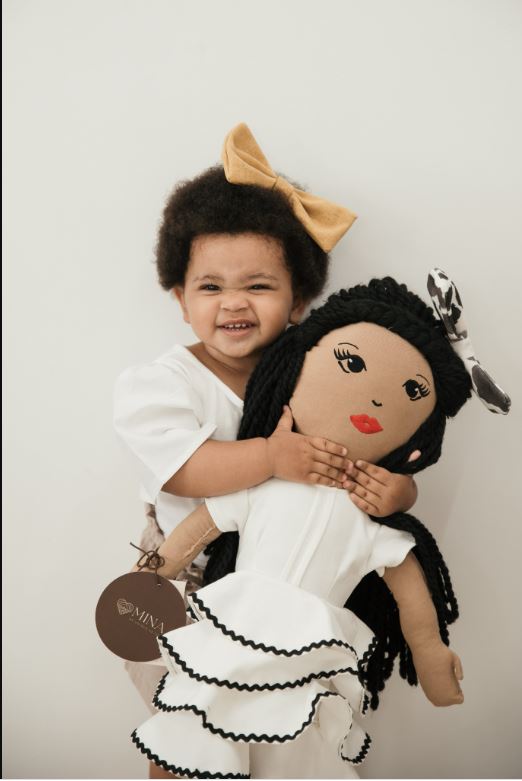 How big is your team in your business and what is your management style?
We have a team of 14 women in the Love Mina studio. These are all women from our local communities, including Gamalakhe, Murchison and Nyandezulu. Most of them are single moms who have never used a sewing machine before. I am so proud of what everyone has been able to achieve over the last few months. I also have two business partners who have been my mentors in seeing Love Mina come to life.
I believe in people. I believe that everyone has a special gift and given the opportunity and the right environment, the best will come from that person. I'm always open to suggestions and allow the women to determine their own pace and creativity. We have a prayer and song every morning before 8am. That is the highlight of my day.
What is your definition of success, and do you feel you have achieved it?
Success is being able to do what you love every day and being able to determine your own schedule. Freedom. Success for me is also the ability to generously help those in need. I do what I love every day and I'm surrounded by people I love. But I'm not yet able to do enough to help those in need.
What is your long-term vision for Love Mina and what other projects do you want to venture into?
Love Mina rag dolls need to travel the world. Exporting is my biggest interest now, but we can only do that with the support of the local market to some extent. I would also like to help smaller brands with their manufacturing needs.
Does load shedding have an impact on your business? How do you work around it?
We have an amazing landlord who has us linked up to a generator, so the work does not stop. We also have different steps in the process that do not require machinery because the doll is mostly handmade, like filling the doll, cutting fabric and sewing on "hair".
You are a GBV survivor, with the country heading towards the 16 Days of Activism later this month, how does the scourge of the senseless GBV personally touch you? How did you get out of it and find the strength to trust in love again?
Long story short, I was in an abusive relationship for over five years. It was the typical physically and emotionally abusive relationship where I was isolated from friends and family by a narcissist. I wasn't informed enough about abuse so I stayed in the hope that things would change. I realised when it was almost too late that the man was going to kill me. If he didn't kill me, I would kill myself. I realised that I was not ready to die. At the point when I decided to leave, I knew that I would need to let go of everything and start over again. The justice system needs a complete overhaul to serve GBV victims, women and children. Unfortunately, it's not serving us at all, and the police are not experienced enough at handling our cases.
I've been blessed with an amazing man in my life who has supported me in every way. He is an amazing father and is my best friend. God has restored and multiplied.
Women need to trust their instincts. A red flag is a red flag. Be picky.
Which businesswoman or career woman inspires you and why?
I'm inspired by Gretta van Riel, an Australian entrepreneur who is a master at online selling.
Are the dolls only available online?
For now, yes. We are working on securing stockists across the country and have distributors in other countries as well. A bonus would be to partner with a large online retailer. We have created packaging that is ideal for online selling. Each doll comes in a large reusable box, an authentication certificate that is signed by the person who made the doll and a gift bag stuffed with doll accessories.
Lastly, what are your success tips for young people?
What I've learned so far is that your passion will always lead you in the right direction. Keep your circle very small and believe in your own abilities.
Find opportunities in every corner. Don't wait for things to be perfect before you start. Perfection will be mastered through practice and making mistakes. Nobody is perfect.
To shop for the dolls, visit: Love Mina
Follow: Instagram