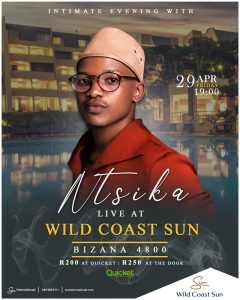 If you can make it to the Wild Coast Sun on April 29, make a date with Ntsika Ngxanga who will take you on a magical music experience
Intimate Evening With Ntsika continues to usher in a whole new musical dawn that introduces audiences to Ntsika's ultimate musical genius.
The solo live musical exhibitions see Ntsika perform original songs gifted to him by his great great-grandfather in a series of dreams.
After Ntsika released  his debut album  I write what I dream, he got booked to headline CTIJF19 and went on to do a sold-out tour that was cut short by Covid-19 before it could even go abroad. However, the impact that Ntsika's music and live performance had saw him get nominated three times for the South African Music Awards in 2020.
"African spirituality is at the core of my music. It is magical, soul-filling and I cannot wait to share it and have it resonate with everyone at Wild Coast Sun."