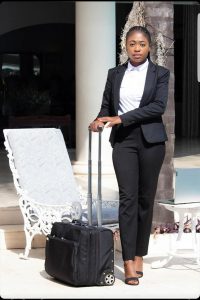 Attorney Nthabiseng Madoa has always had a passion for ensuring justice for people. She shares where her journey began and her success tips for young people
Take us back to your childhood, what inspired your love for law?
I was born and raised in Ermelo. I have always wanted to become an attorney so enrolling for an LLB degree came naturally. My background, strong personality and interpersonal skills made this an obvious choice.
When did you establish your law firm, Nthabiseng Madoa Attorneys Inc? What were some of the challenges you experienced during that time?
Nthabiseng Madoa Attorneys Inc was established in August 2021. Opening a business during a pandemic has been challenging, as finding potential clients was most difficult because there is a stigma that legal services are a luxury instead of a necessity, which is untrue. I had to reconstruct my initial plan by employing fewer staff members and reducing expenses in order to maintain the stability of the business.
  Who are your current clients, and what is your ultimate vision for your law firm?
Government institutions, such as Bushbuckridge Local Municipality; private clients where we deal with civil claims, personal injury claims, insurance claims, pension fund claims, road accident fund claims, administration of estates; private sector businesses where we deal with civil litigations, drafting and reviewing contracts, disciplinary hearings, mediation and debt collection.
My ultimate vision for Nthabiseng Madoa Attorneys Inc. is to be the leading provider of comprehensive legal services and open different branches around the country.
Share some of your highlights as an attorney so far
I had the opportunity to be selected on a programme at Advocates Group 21 Chambers and was mentored by Advocate Barry Roux, this was during his famous defence trial of State vs Oscar Pistorius.
The most intriguing matter I have handled before was an urgent application at the high court of Mbombela for an eviction of unlawful occupiers, where I was representing the Department of Human Settlements. The order was granted in our favour; however, the unlawful occupiers refused to evacuate. I had to bring in a task team of police officers, traffic department, armed security officers, immigration department, and the Department of Health. It was more than 100 households that we evicted. I was 24 years old at the time and made my first headline in my career.
READ MORE: A Legal Maestro
How big is your team and how is your management style?
I have an all-black female staff of four who are all below the age of 35. I made this decision because my field of work is mostly male-dominated. I wanted to give the youth, especially females, a breakthrough by creating job opportunities for them. I believe a good manager is motivational, possesses effective communication and listening skills. I see my employees as my team and I treat them as such. My democratic management style involves collaborating closely with my team members to develop strategies and make decisions together. I am always working to push myself out of my comfort level and I do the same with my team. I believe they are capable of achieving many challenging obstacles, so I use my transformational management style to help guide them through this challenging task when needed.
Describe your busiest day
My busiest day is when I have a trial for the entire day or work out of town, and as a result, I am unable to attend to clients' calls or emails and work on other files. I always make sure that I head back to the office even after hours to catch up on reading and responding to emails and other forms of correspondence, and write memos for my paralegal and prepare for the following day.
What is your definition of success and do you feel you have achieved it?
My definition of success is the achievement of desired vision and planned goals, I believe I haven't achieved my definition of success as yet, but I do have the potential to reach it.
Do you have mentors? Why/why not and what is your view on the role of mentors for one's career or business success?
Yes, I have two mentors, Advocate TS Ngwenya and M Dlamini, a senior attorney. Mentorship can provide numerous benefits for the mentees. The mentor helps an individual grow and develop as a professional, often offering advice based on their more advanced knowledge or experience. A mentor can also help build their mentee's professional network by connecting them to potential opportunities, these connections can be valuable for career advancement.
READ MORE: Do You Need A Mentor To Succeed? We Answer What Mentorship Is Not
Apart from your law firm, what else keeps you busy and feeling fulfilled?
Outside being an Attorney, I am a mentor and have a big passion for working with the youth from marginalised areas by assisting with career guidance to help them with applying at higher institutions, applying for bursaries, and advising on courses or subjects to consider selecting. I also play field hockey in my spare time. I play for the Nelspruit team and also hold provincial colours.
Which legal practitioner, locally or internationally, inspires the work you do, and if you could host them for lunch, what conversations would you have?
Justice Mandisa Muriel Maya. I would love to have a conversation with her and gain insight into how she consistently breaks glass ceilings in our field of work considering the fact that she's the first black female president of the Supreme Court of Appeal. I would also like to know what changes and key issues would she tackle in the judiciary should she be appointed as Chief Justice.
 If you could change anything in the legal field in South Africa, what would it be and why?
Bureaucracy and politics. It taints the law in a pure sense.
 What would you like to be remembered for one day?
I am inspired by one of  Maya Angelou's quotes,  "I've learned that people will forget what you said, people will forget what you did, but people will never forget how you made them feel." Asking yourself how do I want to be remembered is another way of asking, "how do I want to make people feel?". I believe that kindness can change lives, heal wounds and most certainly, help others. I want my actions to have made a difference in positive ways in someone else's life. Love is forever and always remembered.
Lastly, what are your success tips for young people?
Don't be scared of making mistakes, that's how you learn. Do thorough research, information is readily available on the internet, ask questions and think of innovative ideas to meet specific niches in the market. There is also government funding available to young people for start-up businesses, such as SETA, NYDA and SEDA. Lastly, don't entertain opinions like: "you'll never make it", "you're too young" or "that industry is too saturated". We all have the potential. All we need is to commit ourselves.