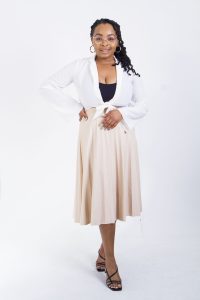 Zinhlezonke Zikalala, the co-founder and CEO of a youth-owned digital marketing company, Sibizi Media, shares what sparked her passion for media and marketing and her success tips
Take us back to your childhood, what were your career aspirations?
I was a bubbly child growing up, always so talkative, inquisitive. People led me into believing I would make a good lawyer, so for the longest time – that's what I wanted to be, a lawyer. But as time went by, I realised that my personality was too social for court and that it was in the media industry where my larger-than-life personality was going to fit.
What attracted you to the media industry and how has your career in journalism prepared you for entrepreneurship?
I had seen what being a media personnel entailed from a cousin of mine who was a journalist and I loved what she did, loved her lifestyle and that was what really attracted me to journalism – being a good writer made me believe that this is really what I was destined for. Entrepreneurship came in when we realised that there weren't enough media companies that were owned by black youth and we needed to tap into that space for the underdogs.
What inspired you to cofound Sibizi Media, what services do you offer and what sets your business apart?
We offer an array of digital marketing services at Sibizi Media, but our main focus is the publishing side of the business, where we publish Sibizi Mag, known Mag and Sibizi News. I think that is what sets us apart really, not many digital agencies – the publishing division.
Share with us the challenges and highlights you have encountered at Sibizi Media especially as a businesswoman.
Making ends meet – sometimes things just don't work out. Finances, especially, resources and manpower. Like all small businesses, I think funding has been the biggest hinder in terms of our growth as a business. However, when it comes to skill sets, I think my team and I are outstanding. We even got nominated for a Youth in Business Award in KZN under the media industry.
Tell us about your magazine, Sibizi Magazine, which you are the editor-in-chief of, why did you start it, how has been received and who is your target audience?
I started the magazine with a clear mission to be the voice of small-town people with big-time dreams. I wanted to tell all the untold stories and sing about all the unsung stories. There are way too many black stories that need to be documented, especially in the entrepreneurship space. So far, people have taken in quite well – all we've seen is the brand grow from strength to strength.
A lot of media companies, especially magazine titles, have had to find creative ways to remain afloat while others closed down, what sets your publication apart and how do you aim to sustain it?
We're 100% digital, so we get to skip all the printing costs, which takes a huge load off our backs. Sustainability is still quite hard as we are still earning our street credibility with a lot of big brands for advertising.
Describe your busiest day
It's a week. Deadline, which is usually the last week before the issue goes live. From proofreading to redesigning to signing off pages of the magazine – it gets crazy.
What is your definition of success and do you feel you have achieved it?
Success is reaching your ultimate goal. We're well on our way as a brand, but there's still a long way to go. Give us at least five years, we have big goals set out for Sibizi Mag.
Apart from your company, what keeps you busy and fulfilled?
I have a 9-5 job that keeps me busy. What keeps me fulfilled is knowing that I can do it all. So, I'm forever booked and busy.
If you could host three women, locally or internationally, for dinner, who would they be?
Khanyi Dhlomo, Prof Mamokgethi Phakeng and Phuti Mahanyele.
Do you have a mentor? Why/why not? 
I do, several ones actually. They help me centre my life and find a good balance. One is very personal-orientated, the other one is very business-orientated and the last one is a bit of both – this one is the one that I draw a lot of inspiration from, we live very similar lives and in the same career field.
Lastly, what are success tips for young people, especially entrepreneurs?
I know this will sound very cliché, but Nike said it best, 'just do it'! Whatever it is you're thinking of doing, DO. If it fails, at least you know how it's done. Do it again. Giving up should never be an option. Networking is really what's going to take you to the next level – make connections. Sell yourself – you are your first point of contact to your brand.
For more information, visit: Sibizi Media
Connect with Zinhlezonke on: Instagram