37-year-old award-winning actress and entrepreneur, Terry Pheto has come a long way since she entered into the entertainment industry 15 years ago, she shares what success means to her and her success tips to young people.
International award-winning South African actor, Terry Pheto, has been announced to star in a new international feature film titled FACES as a lead actor. Having won the Best Actress TV/Drama 2017 for Madiba and Best Actress 2017 for A United Kingdom at the 2017 International Achievement Recognition Awards in 2017 Pheto is the epitome of #blackgirlmagic. She chats to us about her journey to success and her new feature film, FACES, which will have its exclusive world premiere in South Africa at the 39th Durban International Film Festival (DIFF) this Sunday, 22 July 2018. 
Has storytelling something you always wanted to do for a living?
Indeed. As a child, I loved the idea of being a storyteller and would imagine myself sharing stories that my grandmother would tell us. Safarfina was actually one musical that deepened my love for the arts.
Tsotsi, was a big film that introduced the world to you, was it something you have imagined would happen early in your career?
I have always a had vision from an early age that I would do something big with my talent and the film Tsotsi was a great assurance that I am meant to be an actress. It was my first big role, which paved way for other big opportunities. But my big moment took a lot of hard work and studying my craft. I always took part in community theatre in Soweto until I was scouted by an agent who signed me; and as they say, the rest is history.
What does success mean to you and do you feel you have reached it?
Success is not that simple to define because you always have to dream bigger when your dreams come true. When it comes to my purpose, which I am passionate about and paid for I would say I am successful. Being recognised for the work I do is also humbling and there is more that I still want to achieve.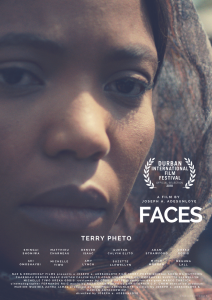 Tell us about your new film, Faces, what draws you to the characters you choose to play?
I am always drawn to complex, interesting, selfless and especially strong women. I love playing characters that resonate with me as a woman and ones that keep me out of my comfort zone. Playing a leading role in the film Faces was no different as the movie talks about challenging social issues that aren't comfortable but necessary to discuss.
Apart from acting what keeps you busy?
I have a production company, called Leading Lady Productions that keeps me busy, I also have a number of businesses as well. So my days are never the same.
Do you have any role models and what is it about them that you admire?
I look up to different women who have paved the way for many of us to fulfill our dreams, especially in the entertainment industry. I look up to the likes of Basetsana Kumalo and Carol Bouwer who have been in front of and behind the camera. Their businesses have created many opportunities for people and more importantly, I admire their strength, which carries them throughout their challenges.
What is your relationship with failure and what lessons have you learned from it?
There is no such thing as failure just because your goals are delayed or derailed. You only fail when you give up and I don't, so I never fail in what I put my mind to. My industry is one of rejection and that doesn't mean you fail. You can't play every role in every film. Just before Tsotsi, I had auditioned for another film I really wanted and didn't get the part, had I given up on acting because of that rejection I wouldn't be where I am. The trick is to never give up, no matter what.
What are your success tips to young people?
You have to be deliberate about what you want in life and go for it. You must always be ready to seize the moment when opportunities arise. Never stop learning and bettering yourself. Remember that things won't always go your way, instead of giving up, change the direction of your journey. Success stories are always of those who never give up.
What is your favourite traveling destination and why?
I love London and New York City. I love the energy and the cosmopolitan environment in those cities. I also love the fact that many people hustle hard to make a success of themselves there.
Ahead of the FACES world premiere this weekend, Terry Pheto will join a diverse range of women leaders at the inaugural Marie Claire Power Summit 2018 taking place on Wednesday, 18 July 2018.
Connect with Terry Pheto on:
Facebook: https://www.facebook.com/TerryPheto/
Instagram: Terry Pheto (@terrypheto
Twitter: @TerryPheto