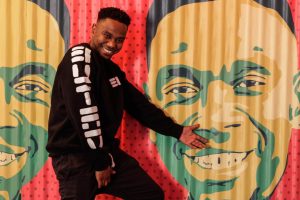 Media personality, comedian and businessman Thomas Gumede shares with us about his passion for entertainment, his new show, and his success tips to young people. 
 What is the first television show or radio programme that attracted you to the entertainment industry?
Bad Boys 1! I still know all the dialogue word for word.
 Share with us how you broke into the industry, what were some of the challenges you experienced?
My mother was supportive enough to allow me to study at AFDA, it was very expensive and she had to get a loan. So with that knowledge, I knew I had to work as hard as possible to start making money in tertiary. My friend Leroy Gopal introduced me to Legends Agency while I was in second year and I started auditioning. I got my first supporting role on Mthunzini.com in my second year, and then in third year I got my first lead role on A place called home.
 What would you say is the hardest part of being an entertainer and how have you managed to stay grounded and build longevity in your career?
The hardest part of being an entertainer is constantly having to evolve and adapt to new ways and systems in place that govern how you have to entertain. I'm fortunate that I am very close with my family and they have kept me grounded all these years.
 Covid-19 negatively impacted many industries, including entertainment, how were you able to sustain your career, and what were you up to during lockdown (in addition to being a dad, congratulations by the way)?
Thank you. We lost a few contracts as Parental Advisory Productions when gatherings were banned, so on the eve of lockdown level 5 in March, myself and Lungile Radu shot a pilot of the Lowdown with Thomas Gumede and by God's grace it was picked up by Mzansi Magic and the rest will soon be history!
What is your definition of success and do you feel you have achieved it?
I feel like success is an ongoing road trip, and you have to pour petrol every week! I have felt success, and I have felt it not be enough to sustain me if I don't continue working hard and pouring that petrol.
What goals do you aim to tick off post Covid-19 and five years from now?
I just want to raise my son to be the best man he can be. And to do do that I need to keep working harder than before!
 Tell us about your new show, Low Down with Thomas Gumede, what can viewers expect from it, and what was your favourite moment in shooting it?
Viewers can expect to laugh, and they can expect to relate to seeing themselves and their new societal norms in an entertaining and insightful manner.
Lastly, what are your success tips to young people?
Work hard! Work smart! Watch and emulate others who are successful, always thrive to be better than you were yesterday.
Catch Lowdown With Thomas Gumede tonight (July 9) at 8pm on Mzansi Magic DStv channel 161.
Image: Instagram