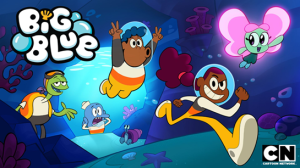 Ghanian Canadian illustrator and cartoonist Gyimah Gariba shares with us what inspired him to create a kid's brand-new comedy adventure, Big Blue
We are honoured to chat with a cartoonist named by Forbes as one of the 15 Young African Creatives Rebranding Africa in 2015.
Take us back to your childhood, what about cartoons fascinated you and when did you decide to make a career out of illustration and making cartoons?
I was very interested in animation when I was a kid; my mom and I would watch old Tom and Jerry cartoons like silent films and laugh together as early as I can remember. That's when I really started to love visual storytelling. The gags, the timing, the setups. That grew into a love of directors like Genndy Tartakovsy (Dexter's Laboratory, Samurai Jack) and Craig McCracken (Powerpuff Girls, Foster's Home for Imaginary Friends). They built up clear character types and stretched them to the limit. They exploited every combination of interaction between the cast and I thought that was such a fun way to build a world and tell stories.
 How has your career at Guru Studio influenced the way in which you make cartoons and children's shows?
The greatest gift I've gotten from Guru Studio has been the ability to work on shows from development all the way through to production. You get to see which ideas stand the test of time and make it to the screen and which ideas fall to the side. It's really helped me decide what to prioritize in storytelling and design.
 Tell us more about the animators who inspired you, what have you learned from their work?
A lot of the animators who have inspired me have been the crew I've gotten a chance to work with on the show. Riccardo Durante, our director, was an amazing mentor for composition and the basics of storyboarding. Watching him work up close was such a treat. Where you place the camera and how you plan your scenes can tell so much of the story – work smarter not harder!
 Your debut TV show, Big Blue, took you six years to make, tells us how the show came about, from the concept to the inspiration behind the storyline and the team you were able to work with to bring it to Cartoon Network Africa in March
The show came about through an internal call for pitches at Guru Studio led by our amazing development team. The show idea was born from the question of what lies beneath the waves and what the future might hold for this planet. From there, we had to decide who the viewer would be going on this adventure underwater with. That's when we thought of making the show a family comedy. We wanted to merge the fantasy-futuristic world and ground it in something real like the love you have for family.
How did the opportunity to work with Timbaland on the theme song come about?
The song came about when we were trying to define the sound of the show and Timabaland was one of the references I put down. His sound is so bubbly and upbeat and I wanted to capture that playfulness in the show. He samples a lot of unusual sounds like laughter and bubble pops that really made us feel like he would be the perfect person to capture the joy and playfulness of this underwater bubbly world.
https://www.instagram.com/p/CW8qedhJ5m8/
 What social change or message do you aim to convey to the world through your TV show, especially your art?
I want to convey that love and the practice of loving each other and our environment is some of the most important, fulfilling and fun work we as humans can do. Love and laughter are trivialised in our world today but can be the solution to more than we know.
 What are you currently working on and what other goals do you aim to achieve this year?
This year I'm working on telling more new and compelling stories. I'd love to continue to build worlds and deliver messages of love and hope through my art.
 What is your definition of success, and do you feel you have achieved it?
Success to me is the ability to wake up every day and express myself truthfully. I don't believe success is something you achieve is something you work at daily; success is trying your very best each time.
 Apart from your job, what keeps you busy and feeling fulfilled?
Aside from work, I love to write and to listen to music. It's extremely freeing and something I know very little about. Anything that can make me more curious is very fun!
 Lastly, what are your success tips for young people?
Go towards what excites you! Success is the way you feel when you're doing what you love.
About Big Blue:
Big Blue follows sibling underwater adventurers Lettie and Lemo and their quirky submarine crew as they explore and protect a vast, ocean-covered planet from ship-stealing crabs, know-it-all jellyfish, a health inspector shark and the murky mass of pollution known as The Blegh! Their underwater life began after a cataclysmic flood led to humans entering the sea to live side by side with aquatic creatures in the Big Blue. Ever since it's been a roller coaster ride filled with adventure and mystery as the team must navigate day-to-day challenges such as being stuck on a ship with a crew of different and explosive personalities.
Catch Big Blue, which has been on air since 7 March, Mondays to Fridays at 07:30 CAT, only on Cartoon Network Africa.
Connect with Gariba on