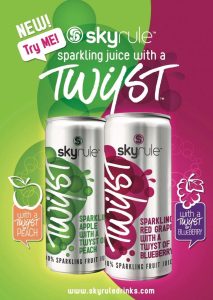 Tembisa-based entrepreneur, Sammy Mhaule shares how he transitioned from being career-driven to starting Sky Rule Twyst
Tell us about your career aspirations growing up. 
When I was, young I was like any other child growing up in a township, half of the time I did not know what I wanted to be or inspired to be but the regular pop ups would be a Doctor today and Lawyer on another day. I never in my wildest dreams ever thought I was going to be an entrepreneur.
What was your previous job before venturing into a business and what lesson have you learned that you apply to your business? 
I was fortunate to work both in the SA and the UK. I gained experience in both professional work and non-professional work.  All these experiences have contributed to my entrepreneurial journey. My background is Engineering Motor mechanic and Marketing, I was an apprentice for BMW SA in Engineering motor mechanic, worked in Children's field and also worked as Marketing Executive for Quantum in the United Kingdom.
Share with us how and why you started Sky Rule Drinks?
This is one story I don't get tired of telling, starting Skyrule Drinks I see it as divine purpose moment. My light-bulb moment came during a visit to my local supermarket. As I passed the drinks shelf, I thought it would be nice if there were a 100% sparkling drinks, which offered two flavours in one, but better than what I was seeing. I knew I was onto something. I then spent 18 months maturing Skyrule drinks to make sure it succeeds before launching the Skyrule twyst product into the stores.
How long have you been in business and what are some of the challenges and highlights you faced thus far?
My entrepreneurial journey started when I was 14 years, selling ice cream in my neighborhood in Tembisa, Gauteng. Like most township kids, I faced many challenges including poverty and had to share almost everything with my three siblings. I had to find a way to be responsible for myself and be able to do things that my parents could not do for me and selling Ice cream was a solution at the time. The biggest challenge is still access to funding and setting up my business from my own saving without a funder was a challenge as a beverage sector is capital intense, having said that being young and black in this sector is still challenging as people find it hard to believe that one can set up this type of business without a fronting person.
How big is your team and what is your leadership style?
My leadership style is about getting things done. In our workplace, we enjoy creating twysted experiences, in an adventurous environment. I believe in and support my team to deliver the best twsyed solutions for our customer. So far our company has a team of 8 full-time staff and 25-part-time staff. By the end of 2018 we expect our full-time staff to grow to 18 members and 55-part-time members.
Why did you choose to be in this kind of business and where do you supply your products to?
I'm passionate about creating things and this type of business allows me to be able to be creative.  Our product is now available at independent stores, OK food stores, Caltex Fresh stop garages, selected Tsogo sun hotels/ Southern Sun, Spar stores in Nelspruit and Pretoria. Our range is coming soon to other major retailers which we will announce soon on our social media accounts.
As a business person and a member of the Proudly South African umbrella, how important do you think it is for South Africans to support locally produced goods and services? 
I love the concept of buying locally, this is one platform that exposes how great we are as a nation in delivering the best service and products SA can offer. When people support Proudly SA businesses they effectively indicate that they want to be part of a change, they move from being bystanders to helping create jobs and growing our economy. Through this great initiative, we are also able to address the issue of local investment.
How would you define success and have you reached it? 
I see success as moving target, it's about doing what you love and keep bettering yourself at it.  This may sound simple but what you love changes over time and having the ability to change what you doing to match your passion is true success to me.
What is the best business advice you have received? 
I have learned that hopes and dreams are not for a selected few but for all those who work hard and believe in their dreams. As I continue my business journey I have surrounded myself with like-minded people as victory can never be achieved alone, allegiance must be forged to overcome superior forces.
Share your success tips to the aspiring business person or one who is on the brink of giving up.
Being an Entrepreneur is not about magic shortcuts, it's a hard and long journey which takes an enormous amount of hard work. We must continually remind ourselves that the world is full of infinite possibilities and countless opportunities but our lives and careers are finite, meaning we have very limited time to make a mark in this world. Find something you love doing and just do it. Everyone feels fear and discouraged at some point in their lives but the difference is how we respond to it. My entrepreneurial journey has not been perfect and in fact it is far from being perfect, having had other failed ventures of my own but each time I have had fall, I have come out stronger and wiser. I have experienced the frighteningly adventurous feeling of starting a business and have experience one of having to build the same business more than twice, it takes persistence, faith, tenacity, resilience and a solid plan to make it. Despite hard times and challenges I keep going and remain open to new possibilities.
For more information visit: