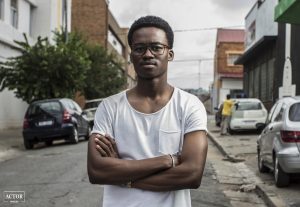 We see 22-year-old Hungani Ndlovu play Romeo, on one of South Africa's biggest soapies, Scandal, which airs on Etv. This actor and dancer tells us about his passion for acting and his success tips.
Briefly describe what, in your childhood attracted you to the arts and entertainment?
To be very brief, Michael Jackson.
Who did you look up growing up, and why?
Quite a few people, but the main person was and is my father. He has this thing about him when we're in a difficult situation to make us, as a family believe and feel as though we will be okay even when there's no light shining at the end of the tunnel.
Describe life after matric?
It has been fast! Full of ups and downs. I spent three years in the US (Los Angeles & NYC) studying and trying to land some work opportunities. My time in the States helped me grow up and mature quite quickly. I came back to SA in July 2015 and began my quest to breaking into the SA industry and by December 2015 I had booked a play at the Market Theatre. My first TV role was on Etv's Scandal. Before any of my work opportunities arrived I started Sans Group in August  2015.
You are also a dancer, where did the passion come from and where did you perform?
I started dancing at a very young age, imitating Michael Jackson and I only began to take it more serious in Grade 8 when I was 14 years old. I love music so I believe that's where the passion for dancing came from. One of my dance highlights was performing at the World Of Dance 2014 in Los Angeles held at the Universal Studios City Walk.
Tell us about some productions you were part of?
I had the privilege of being in 'A Raisin In The Sun' at the Market Theatre directed by James Ngcobo which was a great experience and I'm glad to say that the play has been nominated at the Naledi Awards.
Describe the journey of getting to Scandal
I went through the audition process like many others. I honestly thought I flunked my audition because the Casting Director only did one take with me. I was very pleased to get a callback a few weeks later which was also one take but I was convinced now that it was not looking good for me. Little did I know I would get a phone call a few weeks later to confirm that I booked the role. It was a real shock.
How do you transition to the roles you play?
I do all my homework on the character and the story of the character in order to portray the character as truthful as possible.
How has it been acting in one of SA's biggest soapies?
It has been a true blessing!!! Getting to work with the likes of Mr Sello Maake kaNcube, Madam Christopher, Mr Jerry Mofokeng, Mr Hlomla Dandala has been a huge privilege for me. I am learning a lot about shooting in studio with multi-cams and all other departments involved in producing the final product people watch in the comfort of their homes.
Do you prefer theater or television and why?
BOTH because they require different skill sets which I enjoy exploring.
What, in the entertainment industry, do you wish to improve?
I wish to improve the way artists are represented by agents; how castings/auditions are handled and also to eliminate these fly-by-night agents that rob people off their money.
Tell us about your organisation Sans Group, why did you establish it?
I started Sans Group in August of 2015 because I was looking for a place to go and train my skills but wasn't looking for a long term program. So with failing to find a place I decided to create the platform as I believed I wasn't the only one looking for what I was looking for. The aim is to educate those in the industry, wishing to sharpen their skills. The organisation is for those who are curious about the industry to come and see if it's really what they want to do or not. I also really want to get people in our industry and those aspiring to be in it to develop a culture of wanting to learn.
How many young people have benefitted from the organisation?
We have one student who has a 'featured extra' role as Sputla on Etv-Scandal. We have received feedback that some students are doing better in their auditions which is great. As the years progress, we believe we will see more of our impact in the industry.
What can we expect from you in 2017?  You can expect to continue seeing me on Scandal. I believe I will land another role somewhere else whether in film, TV, theatre or presenting. Right now I'm in my 'What's next?' phase.
What is your advice to other young people who want to make a success of their careers?  You have to be able to work hard, do things for yourself and stop relying on people to make things happen for you. You also need to research and find out about it takes to do what it is you want to do. Believe in yourself. Love yourself. Stay true to yourself. Always do something for the right reasons! If your reason is money, you have already fallen off before even getting there.
Connect with Hungani on:
www.facebook.com/HunganiNdlovu/
Instagram: @hunganindlovu
Twitter: @HunganiNdlovu