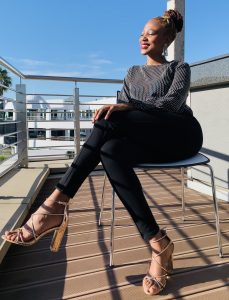 Tsholo Maluleke is making a name for herself in the media industry, especially broadcasting. She tells us where it all began as well as her success tips 
Share with us what attracted you to the media industry
I have always been attracted to stories, be it the creation, sharing or consuming them. Coupled with my curious nature, the media industry presented an opportunity for me to explore storytelling across different mediums.
One of your earliest careers was in PR, what are the highlights and challenges of that field?
My stint in PR came about as a challenge to myself, motivated by my curiosity to gain a better understanding of the key players in the media industry holistically. It's a fascinating space with lots of relationship-building opportunities and people skills development. Highlights of working in this space include being able to get first-hand practice on building brand reputation and status while dealing with challenges arising from client relationships and crisis management.
How did PR prepare you for your career in broadcasting, particularly radio?
PR is about storytelling, communicating a narrative to drive conversation while building trust with the audience. Radio aims to do the very same thing, providing a trustworthy platform to allow people space to share and receive information. PR was the steppingstone for understanding the value and role of being a custodian of information creation and sharing.
You have had various roles at KAYA 959, including being a content producer, programming coordinator and now executive producer, what have you learned from each department and what is your ultimate career goal at the station?
Radio as a medium is about immediacy and agility. Much like my journey with the station, which has included producing content across daytime music and evening talk programming. My journey started off as a content producer, producing The Best T in the City, hosted by broadcast icon Thabo T-Bose Mokwele and later included shows covering content on current affairs, personal finance, motoring, legal issues, arts and lifestyle themes. In this phase of my career, I sharpened my curiosity even more and learnt not to just be informed but also engaged. When managing different themes at a time, you need to be meticulous about the audience and communities you are engaging with. This is where you build your relationships and carve the foundation for your personal brand in the industry.
My appointment as programming coordinator was in conjunction with my completion of an advanced radio qualification from WITS University School of Journalism. During this time, I was afforded the opportunity to have practical experience of the theoretical knowledge gained on the course about the business, functioning and ultimately, management of a radio station. Here, I was able to get involved with the coordination of the programming department at large. Basically, being the glue that connects all department players with key areas of the business. The how of radio was answered during this period – how does it all connect and work?
Now, as the executive producer, I am armed with the skills of producing across different time channels and content, with an understanding of the needs of the business in relation to the targeted audience. This phase requires a strategic thinker and a trusted leader who can contribute to the growth of talent and the business at large.
I hope to leave the station at a time when I have sharpened my craft as a communicator and broadcaster as well as paved a way for growth and inspiration to those who come after me.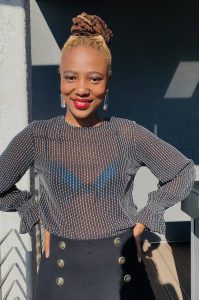 What does your role as executive producer entail and what type of person thrives in this position?
Being an executive producer means leading the show team's editorial agenda and providing support to content producers to actualise their desired conversations with the audience. There is also compliance and regulatory matters, planning, managing budgets and of course lots of problem-solving! To win in this seat, you need flexibility, a good sense of humour (for all the days that go left), people skills to be able to effectively manage and motivate teams as well as a collaborative work approach.
READ MORE: My Journey To Success With Gugulethu Mfuphi
Describe your busiest day
My radio doesn't switch off. I wake up with the first show, which is met by a debrief session post-broadcast. By mid-morning I have checked in with the broader programming teams (music, news and digital) for on-air alignment opportunities and feedback on their contributions. Midday is met with a content planning and sharing meeting with all show producers followed by a series of airchecks (feedback on broadcast delivery, features and interaction with listeners) as well as team show planning meetings. Most days wrap up with recalling the day and planning for the next, provided nothing shakes up the newsroom, which will naturally restructure the entire day.
What is your definition of success and do you feel you have achieved it?
Success is being able to meet both your reality and your desires with contentment. I am very much still in the pursuit of my success and striving to make moves with this conscious thinking upfront.
You are also a lead judge at the Afrobloggers Awards, how did that opportunity come about, how long have you been a judge, and what does your role entail?
My relationship with Afrobloggers is just over two years old. As the saying goes, 'shoot your shot', I did just that and applied for an editor post with them. The conversation led to a proposal for me to join the judging team for the first instalment of the awards. The overall judging process runs over a few months and entails consuming a variety of blogs, vlogs and podcasts from across the continent and judging the work, according to your expertise and prescribed guidelines. Being exposed to different creators while learning about new places and activities remains one of the most refreshing experiences I have had.
Do you have a mentor who guides you in your career? Why/why not, and what is your opinion on mentorship for a person's career or business success?
Mentorship is welcome for all aspects of life. Navigating your career with the guidance of someone who has experience and expertise can set you apart and give you exposure to avenues you may have not been aware of. Even when the road gets rocky, a mentor's support and reassurance can be the fuel you need. I too have key individuals that I balance myself and move against within the broadcasting realm, collectively serving me the role of mentorship.
READ MORE: Do You Need A Mentor To Succeed? We Answer What Mentorship Is Not
Apart from your job, what keeps you busy and fulfilled?
When not on the job, my time is spent on reading, writing, practising yoga, hiking, playing action netball, listening to podcasts, cooking, spending time with my nieces, family and friends. I am also subscribed to various communities that speak to my interests as a creator, supporter of women and the girl child and wellness.
If you could host three women, locally or internationally, for lunch who would they be and why?
Thuso Mbedu – If there is peer pressure I subscribe to, it's from Thuso! It's a marvel to watch her smash her goals and reach her dreams. I'm inspired by her ability to actualise her life as she sees fit while remaining true and self-composed. Also, she has a contagious energy and a free-spirited personality, which I am absolutely drawn to.
READ MORE: My Journey To Success with: Thuso Mbedu
Tracee Ellis Ross – Who would not want to experience her first-hand?! Besides, fashion and style, it's the way she navigates her life with a sense of purpose and intent. She is a phenomenal artist, a leader who is living the narrative and advocating for black women to show up for themselves in industries like media, which remain male-dominated in leadership and remuneration – a focus I too am very particular about.
READ MORE: How To Make The Most Of Being Single Like Tracee Ellis Ross
Carol Bouwer – Apart from her being a media mogul, I am inspired by her ability to wear and balance the various roles she holds while maintaining her independence and personal brand influence. A mother, wife, successful businesswoman, children and women's rights activist, she is present and powerful in all these spaces. If she can do it, we can too.
The current unemployment statistics, especially for the youth, in South Africa are quite discouraging, how would you advise job seekers to stand out to find employment?
Even though job hunting can be extremely frustrating and draining, remember that job recruiters are looking for someone who can do the job but also add a little something more. You have something unique to offer and don't be afraid to bring yourself to the occasion when put to task. Do your research and give the employer insight on some of your personal interests with a matching of how they can serve to benefit the business.  Any opportunity is an opportunity to get yourself to where or what you want to be.
Lastly, what are your success tips for young people?
Success is not a single thing, it's a million little things. Allow yourself the space to set and celebrate the small wins – these are the puzzle pieces to the overall picture of your success.
Visit: KAYA 959