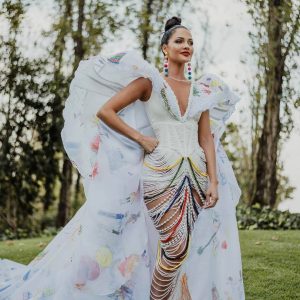 There's a story behind every memorable dress Gert-Johan Coetzee creates, and Miss Universe SA 2020 Natasha Joubert's is no different. He shares the inspiration behind it and his success tips
Gert-Johan Coetzee is the man behind some of the head-turning red carpet garments worn by our favourite local celebrities like Bonang Matheba and Nomzamo Mbatha, as well as showstopper couture donned by international celebrities like Oprah Winfrey and Cardi B. Recently, he unveiled the Miss Universe SA's national costume, which Natasha Joubert will wear when she represents Mzansi at the Miss Universe Pageant next month (May 2021).
READ MORE: My Journey To Success With Miss Universe South Africa Natasha Joubert
We chat to the talented fashion designer about how he built his brand, the Miss Universe SA national costume, as well as his success tips:
What inspired you to be a fashion designer?
I don't think there is a specific reason I wanted to become a fashion designer. It was more of a calling. It was the only thing I was good at. It followed me from when I was young as six years old. I was sixteen when my parents encouraged me to study fashion design because I was good at what I was doing and already winning awards.
How were you able to build your brand to where it is today? In the beginning, what were some of the challenges you experienced?
When it comes to building my brand to where it is today is all about passion and drive. It's that flame in you to chase that dream and find the motivation every day to do the best you can. In the beginning, when no one knew who Gert was, I just got up daily and persisted. I was also mindful of the type of influence and people that I surrounded myself with. Feedback is always a good thing as that is how you become stronger and better. So, it's best to surround yourself with honest, caring people who have your best interest at heart. This is how I became the brand that I am today, every design we have is not just created, we ask the intention behind it and how we can make it better.
How big is your team and how do you describe your leadership style?
Before Covid-19, we had around 50 people, but now we have about 20 people. My leadership style is always surrounding myself with people who know better than I do. I love being challenged and working with people who are technically better so that the product is at its best.
You have designed for many renowned local and international celebrities like Oprah Winfrey and recently Cardi B, do you have other people on your wish list to design for and why?
This, for me, is one of the ways to show South African fashion on a global platform. Funnily enough, Oprah and Cardi B were celebrities on my vision board that I wanted to design for. Other people I would love to dress for are Billy Porter, I think he is such a great LGBTIQ+ activist and he has done so much for the movement. I also would love to see Charlize Theron rocking some Gert-Johan Coetzee. That would be amazing. However, I don't want to limit myself. I want to continue designing for people who inspire me and who would love to wear South African fashion.
Let's talk about the gorgeous gown you designed for Miss Universe South Africa 2020 Natalie Joubert, what was the inspiration behind it, especially the idea of children's drawings being a part of it?
A part of being creative is being collaborative. You have to be open to collaboration, and I think it goes back to answering the question of my leadership style, as well as what sets me apart as a fashion designer. This design was a collaboration between myself, Werner Wessels and Natasha. Natasha wanted a dress that had a meaning, and I also believe in fashion that has a purpose. There have been causes close to my heart that I have supported through my fashion, like HIV, GBV, and albinism; so, it's important for me to tell a story through my garments. And what better way to tell a story than through the eyes of children? I think we were all traumatised by the global coronavirus pandemic, but we wanted children to share what their 2020 look like. We wanted to create an angel of hope through the costume to show that as South Africans and as a human race we can survive yet another challenge. That is why the wings and the drawings are part of the design. The rest of the dress was all about bringing together African couture. I wanted the world to see what African couture looks like at its finest. The dress was inspired by my recent collection called Kraal Collections that I showcased in October last year and that Cardi B dressed in.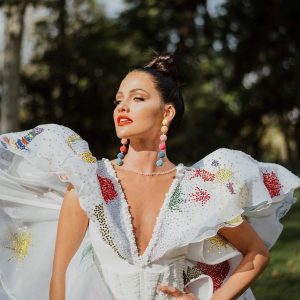 How has lockdown affected your business and how are you recovering from it?
I think no one thought 2020 would be this heavy, but I think this has become the new normal now. We had so many plans; last year was the 10-year anniversary of my brand and we had many celebrations planned. I have adapted by remaining creative and thinking of other ways to keep the business afloat, especially during the hard lockdown, like expanding the ready-to-wear line as people were able to order online. Now, the business is slowly unlocking. It's just about creative thinking, not only in design but also in business.
How do you define success and what are your success tips for young people?
Success to me is happiness. If you are happy in your life and your personal growth, that for me is success. My success tip is to find that flame inside of you to help fuel the drive to achieve a certain goal. You must also know why you want to chase a certain goal or choose a certain field. In a creative field, for example, there is so much criticism that you have to have a thick skin and a passion for what you do. Find a way to be motivated so that you don't need to be validated by anyone else. Be passionate and don't let ego get in the way of creativity or growth.
Connect with Gert-Johan Coetzee:
The Miss Universe pageant will take place in Florida in the US on May 16 (2am to 5am on May 17 SA time). The reigning Miss Universe, SA's Zozibini Tunzi, will crown her successor.