From chicken liver curry to meatballs and lamb knuckles, Chef Nono has hearty and delicious recipes for you to try for your family this week
Looking for simple meal ideas to whet your family's appetite this week? We have three recipes that will turn your dinner table into a feast.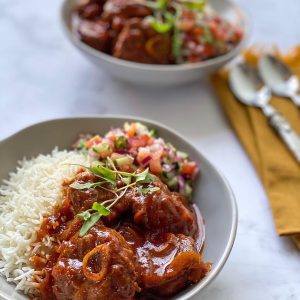 Curried lamb knuckles
Ingredients
850 g lamb knuckles
1 tbsp curry paste
2 tbsp cooking oil
1 large onion, finely chopped
1 tsp minced garlic
1/2 cup plain yoghurt
1 tbsp tomato paste
3 curry leaves
3 tbsp paprika
salt & pepper, to taste
3 cups boiling water + 1 tbsp powdered stock
Method
Place meat into a bowl. Add plain yoghurt; season and toss to coat. Cover with cling wrap and marinate.
Heat oil. Add the onions, garlic, and a little seasoning followed by paprika, stir, then cover and cook for 5 minutes or until onions are soft.
Now add the meat to the onions along with curry paste and curry leaves, stir over medium-high heat for a few minutes.
Add stock in boiling water and pour over meat, cover the pot with a lid, stirring occasionally, cook on medium heat until the meat is tender.
Add tomato paste, stir and cook for a few more minutes.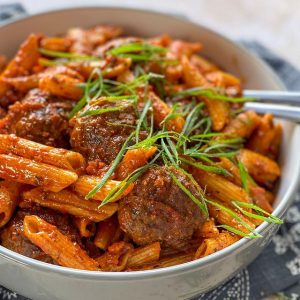 Meatballs with tomato penne
Ingredients
3 cups penne pasta, cooked al dente
8-10 prepared meatballs
1 tbsp olive oil
1 big onion, chopped
1 tsp paprika
2 cloves garlic minced
2 cans canned tomatoes
Spice, to taste (or salt & pepper)
1 tbsp fresh parsley or 1 teaspoon dried
Method
Preheat oven to 180°C
Place meatballs in a baking pan and bake for 20 minutes.
Meanwhile, heat oil over medium heat. Add onion, garlic, paprika, spice and cook until onion is softened.
Remove the meatballs from the oven. Drain fat if there is a lot in the bottom, leave some for flavour.
Add cooked penne, and remaining ingredients to the pan with the meatballs. Stir to combine.
Bake for a further 20 minutes or until heated through.
Recipe Notes
To make homemade meatballs:
Combine the ingredients below. Roll into meatballs and bake at 180°C for 20 minutes or until cooked through.
1 kg minced beef
1/4 cup breadcrumbs
1/2 tsp onion powder
1/4 tsp garlic powder
1/2 tsp seasoning
1 egg yolk
2 tbsp parsley
NB: You can also make this meal on a stovetop.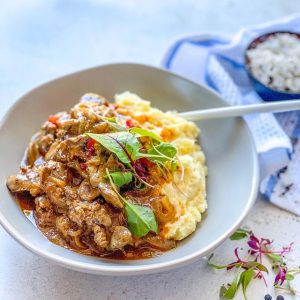 Chicken liver curry
Ingredients
500 grams chicken livers
2 large onions, finely chopped
10 cloves garlic, finely chopped
1 sprig of curry leaves
1 medium tomato finely chopped
1/2 tbsp coriander powder
1 tbsp curry powder
Salt and pepper, to taste
2 tbsp cooking oil
Method
Clean the liver pieces by washing them under cold water.
Heat some oil in a pan and add the finely chopped onions.
Cook on medium heat while stirring occasionally.
Add the curry leaves and garlic when the onions start to turn brown.
Add finely chopped tomato. Combine well.
Cook until the tomatoes turn mushy.
Add curry powder, coriander powder, and salt and pepper.
Combine well and add 1 1/2 cups of water. Mix well and bring to simmer.
Drain off the liver pieces that we had kept aside in the beginning.
Add them to the pan and mix well.
Continue to cook until the liver is cooked through and the water/gravy has reduced to your preference.
Adjust seasoning.
Serve hot.
Connect with chef Nono on:
Facebook: Facebook.com
Instagram:  Instagram
Be sure to get her new cookbook, order it from her social media accounts.