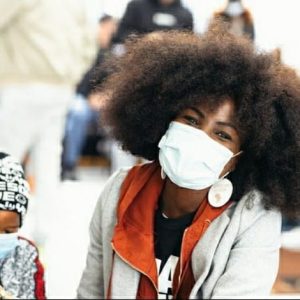 Melissa is from Butterworth in the Eastern Cape. She has a BA in motion picture medium from AFDA and majored in television writing. She tells us more
The 24-year-old works as an account executive at a marketing agency and says her role models are Chimamanda Ngozi Adichie because "she is not afraid to speak the truth no matter the cost" and Ava DuVerney "whose commitment to writing stories that challenge the way one sees the world and thinks is inspiring." She tells about how she felt when she was announced as the top 10 contender for Miss SA, as well as what she will be doing on Heritage Day:
How did you feel when you were told you were a Top 10 finalist?
I was in complete disbelief! Even now, I keep thinking I am dreaming and someone is going to wake me up. This is such an honour because it is something I have dreamed of, and worked for, for such a long time.
Did you celebrate?
I am not a very good dancer, but when the call ended, I turned on my favourite song Into Ingawe by Ami Faku and started dancing around my apartment.
What have you learnt about yourself since you started this journey?
I am much braver than I thought I was. Being vocal about controversial societal issues is not an easy thing to do, and it can be terrifying. However, I have found that whether I receive negative, or positive comments, I am able to stand my ground.
What are the initiatives you will be supporting?
An initiative called Grace Beyond Borders, which was founded by Aurelie Kalenga and Kelly Kabongo, who are on a mission to provide food parcels to foreign nationals living in South Africa, who do not qualify for the Covid-19 relief grant. This particular initiative is very close to my heart as it is aligned with my campaign of building unity, acceptance and love within the African continent.
What are your plans up until pageant day?
I have been really inspired to adopt a healthier diet and exercise routine and leave my favourite meal (ribs and wings) for a while. That is what I will be working on until pageant day.
What will you be up to this Heritage Day?
I've spent almost a month without seeing my dad and siblings, so I'll definitely be going home to spend time with them and enjoying a hearty home cooked meal.
What does the day mean to you?
Heritage Day is such an important day to me as I'm on a personal journey to learn, explore and understand my Xhosa, and Ugandan heritage. I think it's important for all of us to go on that journey because I believe that understanding where you come from helps in getting to know who you are and everything that makes you, you.
What would be your perfect Heritage Day meal and who would you share it with?
I really love dombolo and stew, so I would love to have my mom's dombolo and beef stew, and share it with my entire family.
Why should people follow the remainder of your journey and the Miss South Africa pageant in October?
There is still so much I want to offer and share with the rest of South Africa. Most people are aware of what my campaign is about and now I would like to also offer and show them who Melissa, the 24-year-old woman from eGcuwa, is.
What has lifted your heart during this pandemic?
I really appreciate how the majority of people are abiding by the social distancing rules. It is not an easy thing to do.