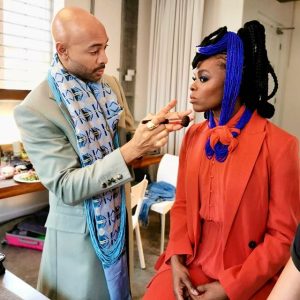 Woolworths has once again joined forces with celebrity make-up artist Sir John to collaborate on an exclusive, limited edition make-up range. And Unathi is the face of the collection
Following the success of Sir John X W.Beauty Volume 1 and 2, we are proud to bring you Volume 3, a collection inspired by and made for South African women.
"I was creatively energised by the inherent, diverse beauty of the women in your country. This is my ode to them all," Sir John said of the latest collaboration.
From concept and art direction to the formulas themselves, Sir John and W.Beauty sought to honour the wave of women reigning and shining, and aptly named the collection "Reign & Shine".
A strong cast of dynamic South African women feature in the campaign, with Unathi Nkayi, Idols judge, author, and media personality as the face of the collection.
"The time's right for evolution, and Unathi's the face of it. My wish is for women and girls to walk past a Woolies store and see themselves in her," says Sir John.
"It's about raw, unrefined beauty, amplified by illuminating formulas and premium quality. Self-expression is the currency of our time, and we want to give women the tools they need to shine, create and share who they are with the world," He added.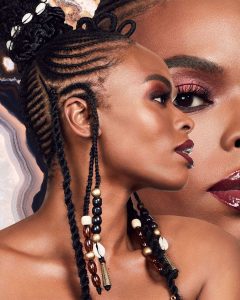 Talented local artist, Robyn Pretorius, was commissioned to create artwork for the Sir John X W.Beauty Volume 3 packaging. The design features three beautifully hand-painted artworks inspired by the iconic national flower of South Africa, the King Protea, found exclusively in our abundant floral kingdom. "I chose to use true-to-life colours that honour the flower's natural beauty, and went with a contrasting dark background to depict the resilient Protea as it would appear in nature after seasonal veld fires. I'm incredibly proud to have worked with a national symbol of hope, pride and beauty for the Sir John X W.Beauty Volume 3 packaging – it is perfectly fitting for everything the collection represents," concluded Robyn.
READ MORE: My Journey To Success with Unathi Nkayi
About the campaign, Unathi shared on her Instagram post, "I am deeply honoured to be the face of the SJxWBeauty Vol3 A collaboration between the inimitable Sir John and Woolworths. A collection that celebrates our diverse beauty as South African women. The collection is called 'Reign and Shine' to celebrate us as we do so on this planet as the royalty that we are.
This collaboration remains 100 per cent vegan and endorsed by Beauty Without Cruelty, meaning that they are made without the use of animal-derived ingredients and are not tested on animals.